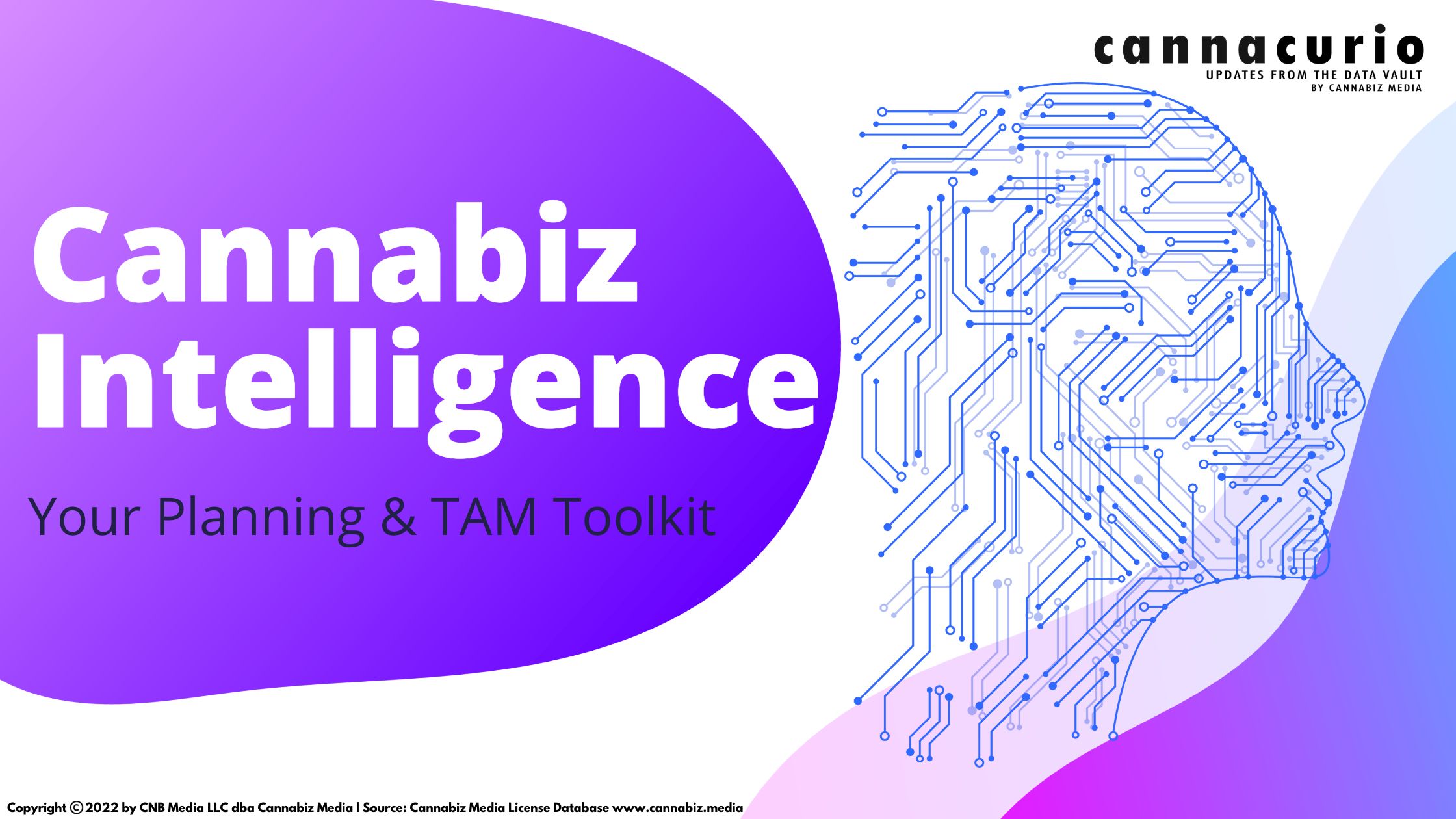 Cannacurio #62: Cannabiz Intelligence – Your Planning and TAM Toolkit
Be the first to know when new content like this is available!
Subscribe to our newsletter to receive notifications of new posts, local news and industry insights.
Thanks very much! Your submission has been received!
Oops! Something went wrong while submitting the form.
It's the end of the year and time for all of us in the cannabis industry to do our strategic planning and budgeting for 2023. Cannabiz Media's business intelligence platform is packed with data to help you complete these projects in record time with an unprecedented set of data dashboards. Thanks to the graphs, charts, tables and data exports we provide, you can create TAMs and market share analyzes in no time.
Total Addressable Market (TAM), also referred to as Total Available Market, is a term typically used to refer to the revenue opportunities available for a product or service. TAM helps prioritize business opportunities by serving as a quick metric for the underlying potential of a given opportunity.
Here are some examples of how our customers are using these tools:
inputs
Our industry is often described as a highly regulated agricultural vertical, spanning from seed to sale. Cannabiz Intelligence® has dashboards to help you measure these market dynamics:
Wholesale price of cannabis
Through our partnership with Cannabis Benchmarks®, we provide an overview of the volume weighted average price of cannabis from 18 states from January 2021 to present. Use this valuable information to create your own forecasts and perform break-even analysis based on different price points.
‍
‍
canopy size
From this dashboard, now in beta, we're showing all of the potential canopy available in key states. It answers the question of how much canopy is available to growers, not what was grown. We built it based on the number of licenses and the allowed canopy sizes or areas.
‍
‍
output
In addition to the price and canopy inputs, we also aggregated data from further down the value chain. We can help you track demand using product and sales data as well as patient counts. Use this data for the following use cases:
What is selling?
Have sales increased or decreased compared to last month/year?
Which product types are enjoying increasing/decreasing popularity?
Here are sales by category and month for 2022 for states that report this data.
‍
‍
patient count data
In purely medical states, patient count reflects market size and how it is changing. In states with medical and adult programs, you can measure the likely decline in patient numbers if they opt out of state databases to buy as consumers instead.
Here is a chart of patient counts in Florida since 2017:
‍
‍
distribution
A key component in any TAM analysis are distribution points. Cannabiz Media has been tracking this metric since 2015. There are currently over 10,000 stores nationwide. A variety of dashboards show counts by state, latitude and longitude, and how the number of stores has grown over time.
license counting – How has the number of shops increased/decreased? Where do I use my field service?
license counting – Where are they?
Here's a look at Michigan store growth:
‍
‍
Other dashboards help users allocate licenses and research company assets:
‍
financial assets
In addition to evaluating inputs, outputs and distribution, Cannabiz Intelligence also provides transaction details on nearly 600 M&A deals. Using this data, you can see how much we estimate for licenses sold in different jurisdictions.
Here are some details on the Diddy Combs deal:
‍
And the last asset class to look at is leaseback transactions. Our Cannabiz Business Intelligence tool has collected data on over 100 of these transactions conducted by AFC Gamma, Innovative Industrial Properties and Pelorus Equity Group. Companies that have participated in these deals include well-known MSOs such as Curaleaf, Pharmacann and Columbia Care.
‍
‍
Final Thoughts
The end of the year is just around the corner and time is running out for budgeting and planning. 2022 was a brutal year for the cannabis industry, and you need good data to plan for success in 2023. We've put together 28 data dashboards to give you all this information. Download what you need and create pivot tables, charts and other artifacts you need to promote 2023.
Schedule a demo to see how Cannabiz Intelligence can help you in 2023 and beyond.
author
Ed Keating is co-founder of Cannabiz Media and oversees the company's data research and government relations efforts. He has spent his career working with and advising information companies on compliance issues. Ed has led product, marketing and sales while overseeing complex, multi-jurisdictional product lines in the securities, corporate, UCC, security, environmental and human resources markets.
At Cannabiz Media, Ed enjoys the challenge of working with regulatory bodies around the world as he and his team gather corporate, financial and licensing information to track the people, products and companies in the cannabis economy.
Ed graduated from Hamilton College and received his MBA from Northwestern University's Kellogg School.
Cannacurio is a weekly column from Cannabiz Media featuring insights from the most comprehensive licensing data platform. Check out Cannacurio's posts and podcasts for the latest updates and information.