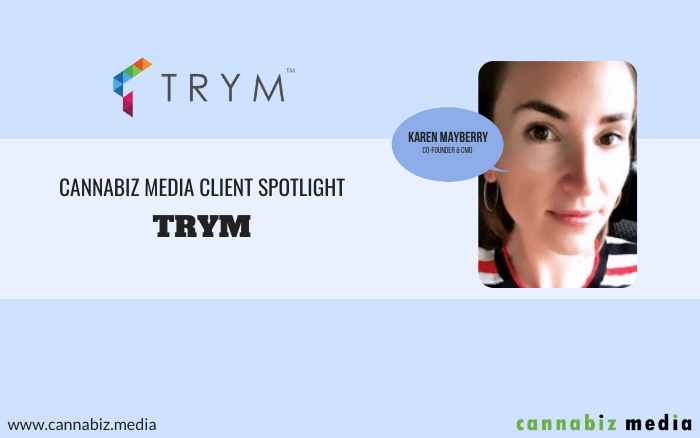 Cannabiz Media Client Spotlight – Trym
Be the first to know when new content like this is available!
Subscribe to our newsletter to receive notifications of new posts, local news and industry insights.
Many Thanks! Your submission has been received!
Oops! There was an error submitting the form.
Trym is cannabis business software for the cultivator that offers team management, plant tracking, analysis tools, and more. As the company's slogan explains, Trym is cultivation software that allows you to get the WTF out of your ROI.
Cannabiz Media recently spoke to Karen Mayberry, Co-Founder and Chief Marketing Officer of Trym to learn more about how she and her team use the Cannabiz Media License Database to support their business development, sales and marketing initiatives.
Why is Trym Subscribing to the Cannabiz Media License Database?
Trym subscribes to the Cannabiz Media License Database for sales pitches, as well as for email marketing and research purposes. "We love the Cannabiz Media team and the database has been very helpful to our sales team," says Karen. "Our business development representative loves to get into the database and do his investigative work."
For the Trym team, the Cannabiz Media License Database enables the integration of their marketing efforts to add value – especially their investments in content marketing and email marketing. Karen explains, "Content marketing is very important to us. With the Cannabiz Media platform we were able to further distribute our content by having access to all email information and the entire database.
We also got a lot of great tips from your team on how to deal with cold outreach. Not only have the Cannabiz Media team been helpful in bringing us this great product, they also gave us some insights and strategies on how to be most successful with the product. We learned that the email marketing we do through the database is a great way to spread our content, add more value, drive prospects and then hopefully build a relationship. "
Karen also shares some tips on how to use the Cannabiz Media License Database for other subscribers. She explains, "One of Cannabiz Media's email advisors told us to always think like the prospect and ask, 'What's in it for me? So when you're creating an email campaign, you definitely need to think about what's in it for you. What will inspire them to open the email and click through? We want to create value, not just fill people's inboxes with spam. "
What's next for Trym?
In addition to further improving Trym software and expanding deeper into markets across the country, one of Trym's priorities for the near future is to focus on growing integrations and partnerships. The team is currently working on the integration of the Trym platform and an HR company platform with an expected completion date for the first quarter of 2021. "
Technology solutions are getting more sophisticated, "says Karen. "Our platform is really, really scalable now and I think integrations are going to be really exciting. We want to integrate with a lot of partners in 2021. We have a long list of people we definitely want to hang out with. "
For more information on Trym and for more insight from Karen Mayberry, follow the link and listen to the latest Cannacurio podcast episode from Cannabiz Media, which featured Karen as a special guest.
To learn more about how subscribing to the Cannabiz Media License Database can help your business, how it helps the team at Trym, follow the link and schedule a free demo.