Biden Signs Historic Marijuana Research Bill, But What Does It Actually Mean for the Industry?
Last Friday, US President Joe Biden took a historic step by becoming the first American president ever to sign a marijuana legislation into law and make it law.
Now, the bill to expand research on medical marijuana and cannabidiol will (hopefully) make it easier for researchers to study the marijuana plant. It also includes literature urging the federal government to analyze the plant's therapeutic benefits, which could potentially help advance the rescheduling of the review planned for Biden in October. Additionally, the bill will allow research universities and private companies to obtain licenses from the US Drug Enforcement Administration so they can grow and study it for research purposes.
Additionally, the bill could even spur the growth of companies looking to develop cannabis-based treatments, including pharmaceutical companies. If the research they conduct is successful, these companies may even be able to market and sell their products that back up scientifically based medical claims without getting in trouble with the Food and Drug Administration
A statement was also released by the bill's co-chairs: "For decades, the federal government has stood in the way of science and progress – by peddling a misguided and discriminatory approach to cannabis. Today marks a monumental step in improving our state cannabis laws," said Reps. Blumenauer, Barbara Lee, Dave Joyce and Brian Mast.
"Research is fundamental to moving forward in cannabis policy," they said. "As we celebrate the passage of this critical and long-overdue law, we know there is much more work to be done to repair the lingering damage of the failed drug war," the statement said.
The bipartisan bill was first proposed in July, although thankfully it was successful in passing the House. The Senate unanimously approved Nov.
Why is this law so important?
This law is so significant because for far too many decades, the federal government has allowed cannabis grown at the University of Mississippi (UM) to be studied by scientists. The cannabis grown at the UM can still be used for research purposes, although the DEA will continue to govern the process by which researchers make requests to study cannabis and its by-products. The law also seeks to repair the damage caused by the War on Drugs so that we can all better understand the therapeutic benefits of marijuana so that millions of Americans across the country can be better educated and have better access to medicines. You can then make more informed decisions about using marijuana products aimed at treating chronic pain, anxiety, multiple sclerosis, PTSD, and more.
Before the law was passed, scientists and researchers had to wade through a ridiculous amount of bureaucracy just to submit a study application, then purchase the plant, and sign up for research. But because of the bill, researchers will have access to a regular, federally legal, and continuous supply of marijuana.
It was also bad enough that, in the recent past, researchers have had to wait a year, sometimes longer, for their permits to be approved by the DEA. But with the new law, the DEA must approve a researcher's application within 60 days. Otherwise, they must give reasons for the refusal. If a researcher can provide additional information based on the DEA's request, they have 30 days to make a decision.
The ability to set a deadline for the DEA to respond is fantastic news for cannabis research to move forward overall.
In addition, cannabis is treated like any other drug when it comes to safety and medical use scrutiny. "We will now be able to treat marijuana the way we treat any substance or drug that we hope has potential benefit. We'll be able to subject it to rigorous scientific scrutiny," said Rep. Andy Harris, a former NIH researcher and physician who was instrumental in getting the bill through Congress.
For years researchers have complained about the numerous barriers they have to overcome to study the plant. In fact, it was like the federal government was blocking cannabis research instead of encouraging it. They are now more eager than ever to study cannabis without the federal government watching them like a hawk and making it difficult due to the poor quality of the cannabis grown by NIDA at the University of Mississippi.
While this is happening, researchers are still hoping that the federal government will take steps to make cannabis mainstream. The most important factor in this is marijuana rescheduling. Should marijuana be moved to a Schedule II substance, it would further remove federal government barriers while it joins many other drugs on that list and increases access more than ever.
After all, most Americans already think cannabis should be legal. A recent poll conducted Oct. 10-16 by the Pew Research Center shows that 88% of American adults think cannabis should be legal for medicinal purposes, and 59% think it should be legal for recreational purposes.
However, Pres. Biden currently remains opposed to federal cannabis legalization, although he has advocated for reform in the past. But who knows when Biden might change his mind — as he always seems to do when it comes to cannabis.
BIDENS DANCE WITH THE CANNABIS INDUSTRY, READ MORE..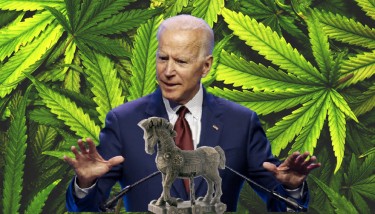 BIDEN'S TROJAN HORSE FOR THE CANNABIS INDUSTRY?