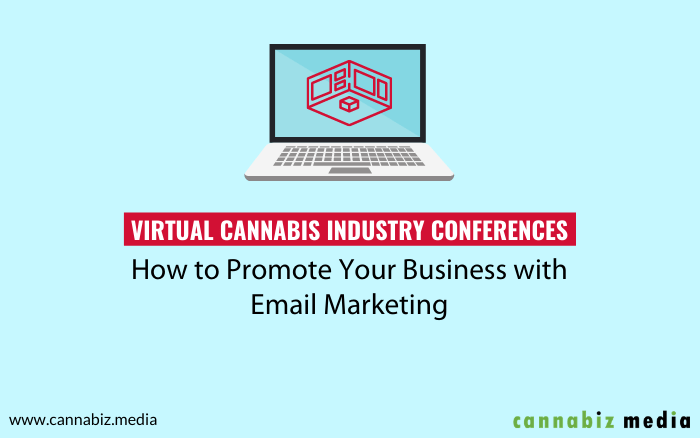 Virtual Cannabis Industry Conferences – How To Use Email Marketing To Grow Your Business
Virtual cannabis industry conferences and trade shows don't provide the personal networking that physical shows do, but that doesn't mean they can't be an effective way for your business to build brand awareness, build relationships, and increase sales.
In order for your virtual trade fair and conference participation to deliver positive results for your company, you only need to make a few adjustments to your marketing strategy. Digital marketing is more important than ever when promoting your business to virtual event attendees. Email marketing should be one of your top priorities.
Email marketing before a virtual conference
Email marketing has to start early. This includes warming up your domain to create an email marketing plan (what to send and when) for attendees and non-attendees.
Warm up your domain
If you use email marketing to promote your business in the run-up to an event, the chances are that the number of messages you send and the frequency with which you send them will increase. A sudden spike in message volume and frequency (anything that doesn't match your previous sending pattern) can be a spam flag for email service providers (ESPs), which are mailbox providers like Gmail, Outlook, Yahoo, etc. acts.
In the simplest sense, like patterns and their algorithms, ESPs look at your previous transmission patterns to detect unusual transmission activity. A sudden increase in the volume or frequency of sending is considered unusual activity. When ESPs detect this unusual activity, they may be more likely to send your messages to the spam folder rather than the inbox.
You don't want this to happen because ESPs not only send your virtual conference messages to spam, but also other messages that you send to spam in the future. In other words, the reputation of your sending domain (e.g. mycompany.com) will be damaged, affecting the deliverability of all of your future messages.
To make sure this doesn't happen and to protect your domain reputation so that your messages get into the inbox instead of the spam folder, you should warm your domain up. With a domain warm-up, you slowly increase your transmission volume and your transmission frequency so that ESPs understand your new transmission pattern.
It is recommended that you perform a domain warm-up before changing your sending patterns for events, holidays, and any other time when your sending volume or frequency changes significantly.
‍Learn more: How to Perform a Domain Warm Up
Connect with the attendees
If your company is an event sponsor, exhibitor, or employee speaker, panelist, or moderator, you may have access to a list of registered attendees prior to the event. This list of known attendees should be a central point of your pre-show email marketing investment.
Send messages that promote the event rather than your company and invite attendees to visit your virtual booth (if any) or to attend specific meetings (if one or more of your employees are a panelist, speaker, or moderator) or just let them know what kind of content you are offering during the conference.
For example, Cannabiz Media could use a copy to promote its participation in the MJBizCon 2020 virtual event by saying, "Visit Cannabiz Media and speak during the Products & Services Showcase at MJBizCon December 2-4 with our team members. Don't miss your chance to find out more about discounted prices by the end of 2020! "
Connect with cannabis licensees
Don't worry if you can't get a list of cannabis licensees attendees. The Cannabiz Media License Database has the leads for you and an email marketing tool that makes it easy for you to connect with your target audience ahead of the virtual conference or trade show. You just have to talk to them a little differently in your messages as you don't know if they are present or not.
For example, if an event is targeted at a specific geographic region, you can quickly find all license holders in and near that region – by state, city, county, and zip code – in the license database. If you only want to connect with people who have a certain type of license, you can too. You can even target people by role, level, license status, and more using the Cannabiz Media License Database.
Email marketing after a virtual conference
As with any event, your marketing efforts should resume when they are over. Create a plan to keep the conversation going through email marketing after the virtual conference or trade show.
Connect with the attendees
If your company is not just attending the event, ask the host for a list of attendees' email addresses so you can keep track of them. The attendee list is a great way to connect through email marketing on a more personal level, knowing they attended the event.
Some organizers are even making more data available to exhibitors, including which attendees visited their stands, what content they downloaded, what questions they asked, and if they shared anything about the event on social media. All of this data will help you write the most relevant messages possible after the virtual conference. Relevance is critical to the success of email marketing.
Even if you can't get the attendee list for a virtual cannabis industry event, you can connect with attendees when it's over. All you have to do is work a bit during the virtual show – just like at a personal event. You need to work on the digital floor and chat with other attendees at virtual events. Make sure to exchange contact information and follow-up after the conference as you would for any other event.
Connect with cannabis licensees
The Cannabiz Media License Database can be used for both post-event email marketing and distribution. You can easily look up each participant of a license holder in the license database for more information about them and to connect by phone, email or social media.
Upload the attendee list and create email marketing campaigns that provide easy access to the content you provided during the event in case it was missed, as well as other useful information about the conversation and relationship with your company to advance.
You can also use the license database to share the content you offered during the conference with people who did not attend the virtual event. Just exclude the attendee list from the target lists you create and write messages that are helpful and relevant rather than sales oriented. There is time to sell later, but for post-event email marketing to non-attendees you need to target people with useful content that will build brand trust first.
Important information about virtual conferencing and promoting your business with email marketing
Email marketing is an integral part of promoting your business before and after virtual cannabis industry conferences and trade shows. Make sure you warm up your domain before you start sending campaigns. Inquire for the attendee list and other dates the organizer is willing to Provide the Cannabiz Media License Database for email marketing and sales pitches with attendees and non-attendees.
Schedule a demo to learn more about how to connect to cannabis and hemp license holders using the Cannabiz Media License Database.