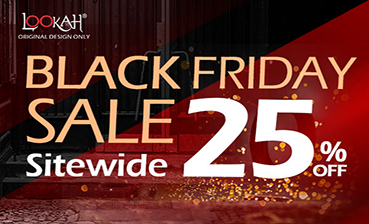 Fifth Ave Green House Black Friday 25% DISCOUNT on worldwide sales
 11/27/2020
 LOOKAH
Black Friday is the unofficial name for the Friday after Thanksgiving in the United States, which is celebrated on the fourth Thursday in November. Since 1952, the day after Thanksgiving has been considered the start of the United States Christmas shopping season, "Black Friday" only became widespread in the last few decades as retailers around the world adopted terms and dates to advertise their goods. Own Christmas sales. Of course, Fifth Ave Green House is no exception
Dab Rig Have you been waiting this time of year to get some of the best Black Friday dab rigs?
We expect the deals and sales for Black Friday 2020 to be huge! If you want to buy some of the latest Dab Pen & Wax Pen at the cheapest prices of the year, Portable Electric Dab Rigs, Dab Vaporizers, Dry Herb Vaporizers, 510 Dab Cartridges, Glass Bong and Dab Rig, Fifth Ave Green House website can give you exceptional value.
Not only is it more convenient to shop in online smoke shops, but it also offers a wide variety of options and choices so that you can use the right smoke. Don't hesitate to get a head start on Black Friday shopping for all of your friends and family.
Black Friday 25% DISCOUNT on the entire website.
coupon LOOK25

Based on the selling price excluding shipping.

Starts 12:01 am (PST) on Friday, November 27, 2020.
Ends Sunday, November 29, 2020 at 11:59 PM PST.
Not valid for wholesale or business accounts.