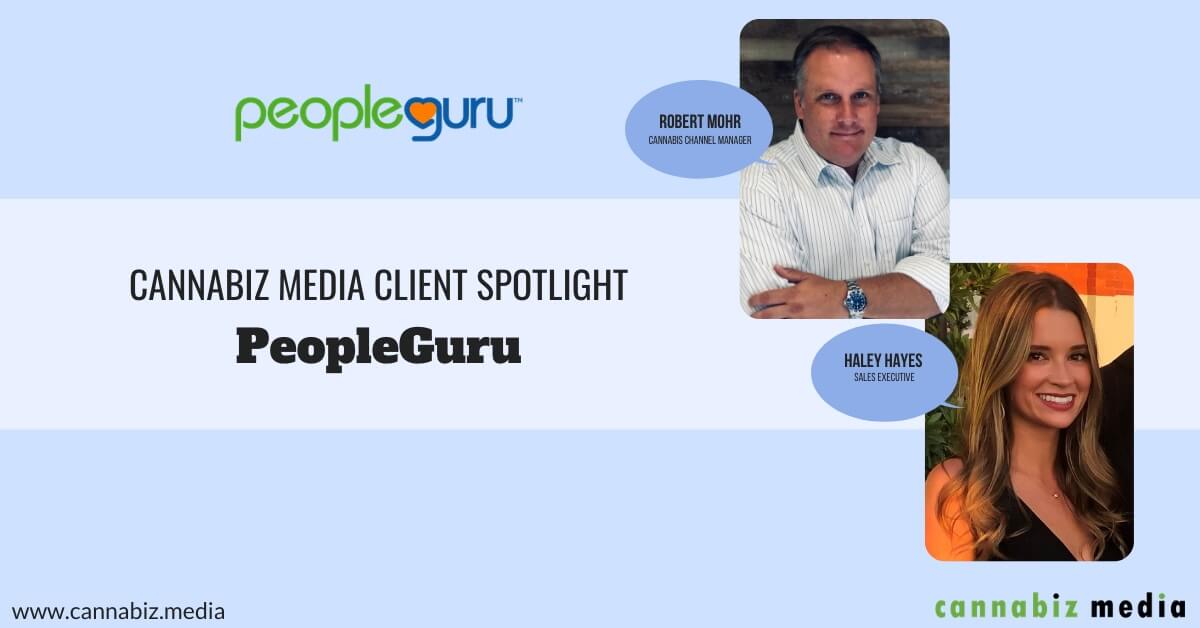 Cannabiz Media Client Spotlight – PeopleGuru
Be the first to know when new content like this is available!
Subscribe to our newsletter to receive notifications of new posts, local news and industry insights.
Many Thanks! Your submission has been received!
Oops! There was an error submitting the form.
PeopleGuru is a cloud-based and cannabis-friendly human resources, payroll, human capital management and technology provider primarily focused on medium-sized and high-growth businesses.
Cannabiz Media recently spoke to Robert Mohr, Cannabis Channel Manager, and Haley Hayes, Sales Executive of PeopleGuru, to learn more about how their team uses the Cannabiz Media License Database to support their sales and business growth initiatives.
Why is PeopleGuru Subscribing to the Cannabiz Media License Database?
PeopleGuru subscribes to the Cannabiz Media License Database for lead generation and sales development. Haley explains, "Cannabiz Media has been an integral part of our sales development program. We use it every day to track licenses and it was a great tool. "
In particular, PeopleGuru's sales team uses a variety of functions in the license database to find potential target audiences and communicate with them effectively.
"The Cannabiz Media platform makes filtering and searching very easy," says Haley. "For example, I can search for companies with over 100 employees in my specific target areas and then keep track of all of their licenses. I can see who has opened my email messages, as well as the latest activity and licenses. "
Additionally, the Cannabiz Media License Database saves the team at PeopleGuru time by making it easy to meet the right prospects and connect with them reliably.
Robert shares, "The quality of the leads that come upstream is far better than the information we had prior to accessing the Cannabiz Media License Database. Before that, it was really a crap shoot. I could get a call and the view could be completely different from what I had imagined or seen on their website. Thanks to the additional insights from the Cannabiz Media data, the Sales Development Group can provide us with really valuable information and targeted leads. Across the company, the Cannabiz Media License Database was a huge benefit. "
What's next for PeopleGuru?
For PeopleGuru, the future will focus on growing midsize and high-growth cannabis companies. Monitoring and adapting to changing laws will continue to be an ongoing process.
"We have legal experts overseeing this type of activity," says Robert. "All changes that arise in the management are fed into our development team. Depending on the level or required response time of the government, these changes will be implemented in the system. We manage all of this for our customers. It is an ongoing operational goal for PeopleGuru to drive new releases forward, train our customers if necessary, and tell them how we are keeping them compliant. "
With the possibility of the MORE and other federal laws being passed in the near future, the PeopleGuru team looks forward to the new opportunities a growing market will bring.
"If you look at some of our competitors, they are reselling someone else's technology," explains Robert. "You don't have a lot of control and ownership. With PeopleGuru, we have all of this technology. It was developed by us. Everyone is a W2 PeopleGuru domestic worker. Nothing is outsourced or offshore. We all own our APIs and can integrate with anything. Adding new code, adapting to changes – that's just part of our daily work. We believe there is a lot to expect and that only positive things can result from changes in banking regulations and the MORE Act. "
For more information on PeopleGuru and for more insights from Robert Mohr and Haley Hayes, follow the link and listen to Cannabiz Media's recent Cannacurio podcast episode featuring Robert and Haley as special guests.
To learn more about how subscribing to the Cannabiz Media License Database can help your business, how it helps the PeopleGuru team, follow the link and schedule a free demo.