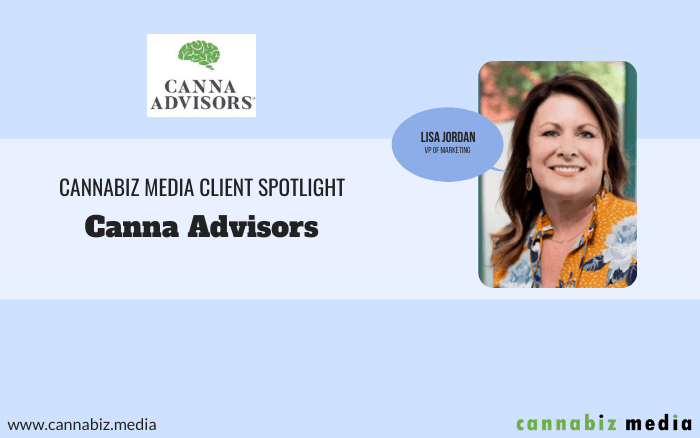 Cannabiz Media Client Spotlight – Canna Advisor
Be the first to know when new content like this is available!
Subscribe to our newsletter to receive notifications of new posts, local news and industry insights.
Many Thanks! Your submission has been received!
Oops! There was an error submitting the form.
Canna Advisors is a consulting firm for the cannabis industry that helps entrepreneurs gain licenses, optimize facility design, standardize operations, maximize business development, and grow their business. The company's experienced team of experts acts as investing, advocacy and mentoring partners for clients in all phases of the business life cycle.
Cannabiz Media recently spoke to Lisa Jordan, Vice President Marketing at Canna Advisors, to learn more about how her team uses the Cannabiz Media License Database to support their business development, sales and marketing initiatives.
Why do Canna Advisors subscribe to the Cannabiz Media License Database?
Canna Advisors subscribes to the Cannabiz Media License Database for business development, marketing, and more. Lisa Jordan explains: "We work very closely internally with our marketing team and our business development team. We see the value of the Cannabiz Media platform in reaching people we would otherwise not be able to reach. "
For Lisa and her team, the license database functions help save time and find people who could benefit from the services offered by Canna Advisors. "The filters in the database and the great tools available let us know exactly who they are," says Lisa.
Importantly, the Cannabiz Media License Database complements much of the work done by Canna Advisors in terms of business development and marketing. "We have pretty robust lists that we've made over time of people who've looked into us for whatever reason, but most of those people want to get into the industry," Lisa explains. "You are not in the industry yet. So if we can go into the Cannabiz Media License Database and add to that list – by compiling our internal list of people striving with people who are already operational – we have the other side of the coin to really get out there and to find the other people we would otherwise not be able to deal with. "
What's next for Canna Advisors?
With South Dakota and Mississippi about to launch new cannabis programs, Canna Advisors has worked with clients in 32 states as well as several international territories. In the future, the company will continue to expand into new markets. However, a focus will always be on states where the team was active when developing its cannabis programs.
Lisa shares, "We like going back to markets we were in early – all those markets where we had early success in medical markets and then they come back with adult use. We love to come back and continue these relationships. For example, last year in Missouri, we worked with and won a record number of licenses. That is why we want to keep in touch with the relationships that we have nurtured and developed. Then when that state comes back and contemplates adult use, we definitely want to come back and continue to be involved. "
For more information on Canna Advisors and for more insight from Lisa Jordan, follow the link and listen to the latest Cannacurio podcast episode from Cannabiz Media, which featured Lisa as a special guest.
To learn more about how subscribing to the Cannabiz Media License Database can help your business, as it does the Canna Advisors team, follow the link and schedule a free demo.