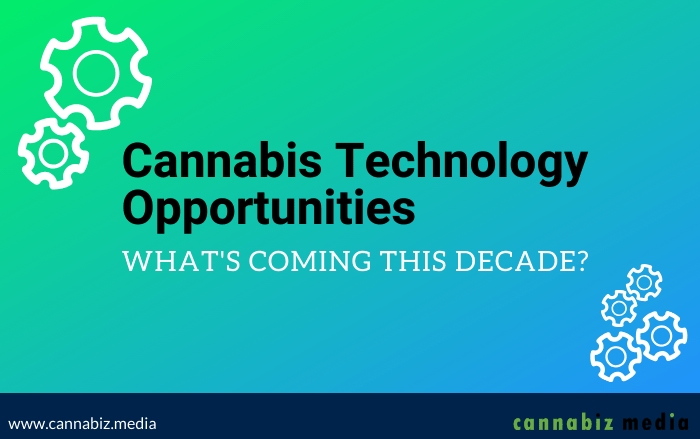 Cannabis Technology Opportunities: What's Coming This Decade?
The opportunities for cannabis technology will continue to grow in the years to come. Gartner reports that current technology trends across all industries fall under three unique themes: people focus, location independence, and resilient delivery. In other words, the technology of the future must digitize processes so that people can work and interact in the current environment, regardless of disruptions (e.g. a global pandemic) or their locations.
Forrester's top trends and emerging technologies, Q3 2020, reflect some of the same technology predictions as the Gartner report. The main trends that Forrester identified include:
Growing demand for ethical artificial intelligence
Change automation roadmaps to back office processes and business resilience
Transition to hyper-local business operations while retaining the benefits of centralized technology management
Drive innovation everywhere with cloud-native technologies in more locations than just the public cloud
Shifting cloud strategies to include more edge computing services from more vendors, which will challenge the dominance of public cloud vendors
The introduction of new automation and HR technologies improves the employee experience to meet Forrester's forecast needs. This translates into a permanent increase in remote work (a 300% increase from pre-pandemic levels)
These trends are extremely important to the cannabis industry, where technology affects every part of the supply chain from big data and cultivation to sales, delivery, and everything in between.
As marijuana laws continue to relax in the country's states, new business opportunities continue to open up. This includes opportunities for new cannabis technologies to transform the industry and existing technologies to evolve and expand.
The biggest opportunities for cannabis technology this decade focus on three critical areas:
Solve industrial problems
Meet consumer needs
Streamline business operations and increase ROI
With Forrester and Garner's predictions in mind, and considering the unique opportunities for the cannabis industry, let's take a closer look at some of the top technology trends to watch out for going forward.
Extraction and delivery methods
Cannabis users' preferences are changing as the scars associated with marijuana fade and a wider audience becomes active users. For example, both the senior and female consumer markets for cannabis products are growing, and these consumers have different preferences for using marijuana. As a result, there is a growing demand for delivery methods other than smoking, steaming and dabbing.
With the growing demand for new delivery methods, there is an opportunity to develop cannabis technology that transforms extraction. Nano-encapsulation technology has been a hot topic in the cannabis industry for some time. Given the soaring popularity of CBD products, developing this technology to find new ways to use cannabinoids safely and consistently should be a priority.
Cannabis extraction technology will also play an important role in the development of new products – especially food and new forms of delivery – to meet the growing consumer demand for quickly deployable, predictable dosages.
Automation and Artificial Intelligence
Technology could solve the cash flow problem that affects many cannabis companies in a variety of ways. Data shows that automation can have a significant impact on business bottom line. This applies to the entire supply chain. For example, the automation of the cultivation can reduce the manual working time in a cultivation system by up to 80%.
Today cannabis growth can be monitored using automated growing apps. This technology integrates artificial intelligence to improve harvests and reduce costs.
From a sales perspective, artificial intelligence has been built into mobile apps, chatbots, websites, and more. Even cannabis vending machines with built-in artificial intelligence are helping to reduce labor costs in pharmacies while improving the customer experience.
Cannabiz Media has added a number of automation and artificial intelligence features to the Cannabiz Media license database and email marketing platform to make them even more powerful and effective for subscribers who wish to connect with cannabis licensees to build their businesses do.
However, the growth of artificial intelligence has brought new concerns and positive impacts, according to both Forrester and Gartner reports.
Consumers and employees now expect companies to use artificial intelligence responsibly. There is a growing demand for ethical artificial intelligence, and companies must commit to ethical and responsible data collection, processing and sharing, including working with partners who share the same ethical obligations.
Scaling and Integration
As the cannabis industry continues to grow, companies need to adapt and be prepared for scalability – sometimes very quickly. That means savvy technology leaders are forward-thinking and deploying the parts now to enable rapid scaling and seize new opportunities as they arise.
Additionally, the growth of the cannabis industry offers the best technology providers more opportunities to get to the top. Integration across technology platforms is becoming the norm as employees and consumers expect software and processes to be seamlessly connected.
Many cannabis technology companies are already aware of the need to scale and integrate in order to gain a competitive advantage and meet user needs. Karen Mayberry, co-founder and CMO of cannabis technology company Trym, said, "Technology solutions are getting more sophisticated. The Trym platform is really, really scalable now, and I think integrations are going to be really exciting. We want to integrate with a lot of partners. "
‍RELATED READING: Cannabiz Media Client Spotlight Interview with Karen Mayberry from Trym
Environment and sustainability
The environment, sustainability, and water and electricity conservation have long been the subject of discussions in the cannabis industry. Fortunately, cannabis technology has solved some of the problems, but there are still ways for technology to do more.
For example, the use of LED lighting in grow facilities has definitely helped reduce electricity consumption, but there is a significant opportunity for new technologies such as electricity storage.
Similarly, today there have been technological innovations in the field of cannabis product packaging with a range of environmentally friendly packaging solutions. In reality, however, huge amounts of paper and plastic are wasted every day across the cannabis supply chain. Here, too, there is a great opportunity for an affordable technological solution.
privacy
First we had GDPR and then CCPA with a lot of other data protection regulations.
The European Union introduced new data protection regulations in May 2018, known as the General Data Protection Regulation (GDPR). The law fined $ 126 million by the end of 2019. Under the new laws, companies that met certain criteria to do business in the European Union had to comply with strict data protection regulations.
In 2020, expanded data protection regulations were introduced in several US states. For example, the California Consumer Privacy Act (CCPA) was passed in 2018 and came into effect on January 1, 2020. Enforcement of the new law began on July 1, 2020, so companies had to quickly put processes in place to ensure they were compliant.
CCPA has strict rules on how companies can use people's personal information, and it is expected that more states will introduce their own expanded data protection laws in the future. Some of these laws are also expected to be even broader than California law.
Companies in the cannabis industry need technology that enables them to map customer data, manage third-party relationships, develop compliant tracking processes, and automate these processes. At this point, the option for a technology solution is wide open.
Key insights into cannabis technology in this decade
This decade will be filled with the introduction of new cannabis technologies. There are certainly problems to be solved and must be met. We are already seeing technology from other industries migrate into the cannabis industry and innovative cannabis technologies constantly coming to market. The best and most agile technology has the greatest chance of being successful and staying in this industry in the long term.
Schedule a demo to learn more about the technology that powers the Cannabiz Media License Database and how your business can connect with cannabis and hemp licensees in the US and international markets.
‍ Originally published 2/18/20. Updated 12/18/20.