Can Artificial Intelligence Help You Become a Better Breeder? This app tries to find out!
I'm about to start a Spanish cannabis cultivation club called ClubCannamex, which currently only has one Telegram group while I work out the platform's final issues.
The first part of the launch of this platform will help guide growers on a live zoom call or perhaps a private live stream each week – and guide them through the process of growing weeds.
While this is an inexpensive and effective way to have a cannabis mentor to help you and perhaps join a community of growers, there are still a variety of issues that growers face when dealing with their cannabis plants.
I am often asked what is wrong with my plant by inexperienced growers who are dying to cut something good out of it.
The yellow color of the leaf, whether it is curling up or down, falling or pointing up, spots – all of these symptoms will give you a diagnosis of what could be wrong with the plant.
Over time, you start tracking certain things and you know, "Ah, it takes some CalMag" or "Ah, maybe I should cut the watering schedule …" and so on.
Even so, while you are still learning, it can be a daunting experience as so many of the growers on my network have learned.
But what if you could use artificial intelligence to use machine learning to find out what's wrong with your plant?
Well – Redditor's GrowCush app, Fair_Descriptions8252, known as "Max," tries to do just that.
I reached out to the developer and, being a very busy person, I sent them an interview with a few solid questions to give me some insight into what this app can and can't do.
Here is our bullet interview:
When did you come up with the idea?
The idea came to me for the first time during my master's thesis about a machine learning application for fluid dynamics. At that point I had wanted to produce an app for a long time and had started programming for fun. The final idea for the app came while I was hiking in the mountains in Germany and was thinking about an app that combines my hobbies, nature and computer science. That summer I also started gardening at home because we had to stay at home for a long time because of Covid, which led me to develop an app for gardening. From there I developed an app for growing cannabis.
What were the greatest challenges for you?
The biggest challenge so far has been the legal regulations. I had to postpone the app's release for about a month until I was sure the name wouldn't infringe any trademarks. I had a very helpful conversation with a management consultant, which was actually free of charge, since in Germany every start-up or person with an idea can apply for free advice. In the end I was helped by a friendly lawyer who is an expert on trademarks and I was finally able to get the app out.
Was it an individual effort or are you working with someone?
I had massive help from my girlfriend who did the design for the app while I was doing the coding. She is a very talented graphic designer and given the amount of passion she has put into her designs, she has been very motivating for me to write the code.
My friends at university also came up with great ideas and lots of other great people took part in beta tests that helped me fix recent bugs and make the app more accessible.
How effective is it? What is the feedback?
In my most recent tests, the app achieved an accuracy of 92% in the validation data set, which are images of cannabis leaves that I already knew about the defects, pests or diseases of the plants.
The feedback I got when I posted the app in / r / microgrowery has honestly been overwhelming. I didn't expect there to be so much positive feedback. I also got some really good ideas for more features from the community.
Do you have any plans to expand it?
Yes, definitely! I plan to implement more functions and features. Since I have to test them out first, I don't want to promise anything too specific, but I have quite a few new ideas, mostly thanks to the users of reddit.
I'm also thinking of offering the software as part of a complete crop protection system, including sensors for pH, temperature, humidity, EC, etc., to growing businesses and passionate home builders in the future.
I would also like to extend the app's framework to other cultures such as whining, chilli and tomatoes.
IOS will be the next as I can imagine since so many are asking?
Yeah definitely, this will be the first thing I work on. Right now I'm already researching the best way to translate my code from Android to iOS.
How do you relate to cannabis?
I might have tried once or twice 🙂
What about pests?
So far, in addition to nutrient deficiencies, nitrogen toxicity, thrips and leaf septories can also be detected. I'm currently working on integrating the detection of additional malware-related issues and plan to release an update on this soon.
The sticky bottom line
As you can see, a lot of heart and soul has been put into this project, and while it's still in its infancy, you can actually help make it more accurate. Since this app is based on machine learning, it needs to be fed the most.
The more of you send pictures, the more accurate the app will become over time. I know some of you will make fun of the thought of sending pictures and relying on an app to spot your problems, but honestly – this could become a very useful tool in the right hands – especially for new breeders.
This is in part why I am writing this article because I have a whole bunch of newbies who keep asking me, "What's wrong with my plant?" It would be awesome to have an app that can help you with the basics.
I think this is a great idea, and if you do too, I highly recommend downloading the app if you have an Android device.
By the way, I turned to the app developer, not the other way around.
CANNABIS APPS COMING AROUND, READ MORE …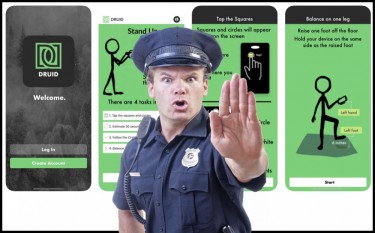 THE DRUID APP TO TELL IF YOU ARE TOO HIGH TO RIDE, YES IT WORKS!
OR..
THE BEST CANNABIS APPS FOR A SMOKE SHEEP AND WEED HANGOUT!