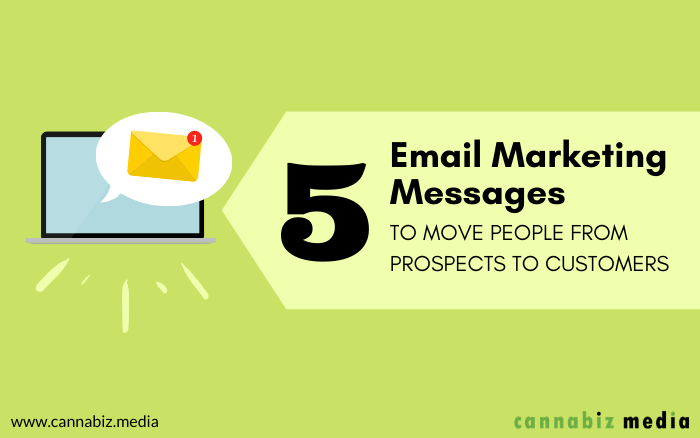 5 Email Marketing Messages To Move People From Prospects To Customers
Be the first to know when new content like this is available!
Subscribe to our newsletter to receive notifications of new posts, local news and industry insights.
Many Thanks! Your submission has been received!
Oops! There was an error submitting the form.
For cannabis and side businesses, email marketing is one of the most effective tools for engaging with prospects and converting them into customers. However, simply sending bulk emails to everyone you can won't get the results you want. In fact, sending generic messages to bulk lists is a recipe that ends up in the spam folder and you don't want this to happen!
One of the most important ways to improve your email marketing results (and avoid spam) is to identify the buyer personalities of your target audiences, segment your lists, and send hyper-relevant messages to each niche group. This requires understanding the demographics of each target audience (e.g. status, licensing activity, licensing status, etc. for target audiences of cannabis licensees) as well as their behavior. This means that you need to keep track of their behavior.
If you have behavioral data, you can segment your audience based on those behaviors and send targeted messages to give them the extra boost they need to move from prospect to customer through the marketing funnel. By subscribing to the Cannabiz Media license database, you can use custom tags to identify key behaviors and target license holders based on those tags.
Here are five behaviors you can follow to send targeted email marketing messages that move people from prospects to customers.
1. Specific email messages opened or specific links clicked
Every email message you send contains more information about the contacts on your list. Their behavior can tell you what they're interested in, where they are in the marketing funnel, and more. All you need to do is observe these behaviors and develop strategies to take advantage of them.
For example, if you send a specific email message that offers a discount on your product or service, it is an important notice to anyone who opens that message or clicks the link in that message to visit your website. If they didn't think about buying, they'd be completely ignoring the news.
In this example, the fact that they took the time to open it, review the listing, and possibly click the link for more information shows that they are interested. Don't let them escape! Instead, follow additional email messages or phone calls to help them overcome the final hurdle they face in order for them to buy.
2. Opened a certain number of email messages or clicked a certain number of links
When someone is very interested in your product, service, brand, or business, they will open many of the messages your company sends to them. You will also be clicking many links in these messages. You should track message opens and link clicks and set a threshold that identifies a highly engaged contact as a hot lead.
Score points on thresholds based on their engagement with your messages to rate leads as cold, warm, hot, and extremely hot. With these rankings, you know where people are in the funnel and can send the targeted messages and content they need most or make a sales call right away.
3. What do people do after they click links in your email messages?
Using UTM codes to keep track of what people do after they click the links in your email messages gives you a wealth of information that you can use to customize future messages and sales numbers.
Use the Google Campaign URL Builder tool to create unique UTM codes for each link in your email messages. This way, in your Google Analytics account, you can not only keep track of where the traffic is coming from to certain pages on your website, but also where they are going and what they are doing while they are on your website. In addition, you can compare your marketing investments using the channel report in your Google Analytics account.
Bottom Line: If you don't already use UTM codes in your email marketing messages, you need to start using them right away!
4. Free trial ended
Any cannabis company or cannabis company that offers free trials of their products or services should email customers if they don't buy them immediately when the free trial ends.
Your subsequent email messages should focus on the benefits or your product or service to take advantage of the psychological effect known as the "fear of missing out" (FOMO). Also, provide these prospects with easy ways to get help so they can overcome any obstacles that might prevent them from buying.
5. Completed free demonstration
If you are offering free demos of your product (such as a SaaS product or a complex product), be sure to have email messages ready after the free demos have ended. Most people are at least a little interested in a product after seeing a free demo. So it's the perfect time to try and push her through the funnel.
Think of it this way: when someone signs up for a free demo, they have shown that they are very interested in your product and are actively looking for a solution to one or more problems they encounter.
If the demo doesn't convince them that your product is the solution, don't give up. Instead, follow up on the phone and email and give them more info on features and benefits that will take them from prospect to customer.
The central theses
Your audience's behavior tells you so much about their needs and where they are in the marketing funnel. Track their behavior and pay close attention to it. With this information, you can create targeted email marketing messages that successfully move people from prospects to customers.
Start with the behaviors presented in this article. When you're ready to take your cannabis and hemp license holder email marketing to the next level, schedule a demo of the Cannabiz Media License Database and see how it can help your business grow.
More Expert Email Marketing Tips for Cannabis Companies and Cannabis Companies
Want to learn more about email marketing and get the best results from the Cannabiz Media License Database? Read our email marketing articles to increase your ROI.
‍ Originally published on April 21, 2020. Updated 11/20/20.