100 kilos of cannabis as a Ukrainian aid package?
According to Spanish police, 30 people were arrested on suspicion of transporting drugs to Ukraine under the guise of humanitarian aid. According to the Guardia Civil, the group reportedly used vans with Ukrainian license plates to deliver cases of marijuana.
Authorities were first alerted to the situation when Ukrainian nationals were spotted collecting marijuana in Andalusia, a province in southern Spain. Two trucks carrying 109 kilograms of cannabis vacuum-packed in boxes were found by police.
According to a statement, the group disguised themselves as part of a solidarity caravan to avoid police and border controls. This crew traveled to several locations in Andalucia to obtain already packaged marijuana. They then moved the marijuana and kept it in a Mijas apartment with extreme caution.
Among the arrested suspects are citizens of Ukraine, Germany, Spain and Morocco. They are all accused of drug trafficking, membership in a criminal organization, illegal possession of weapons and electricity fraud, among other offenses. During her arrest, two criminals also tried to escape, even hitting a police car with her, only slightly injuring two police officers. They are also accused of assaulting a police officer.
Almost €800,000 ($847,000) plus six firearms and 2,500 cannabis plants were seized from operations in Malaga, as well as the southern cities of Seville, Cordoba and Granada.
Twenty people were arrested by the Guardia Civil last month for possessing more than 32 tons of marijuana stored in the Spanish cities of Valencia, Ciudad Real, Asturias and Toledo and sold "through a complex business network" that involved shipping the vacuum cleaner . packaged marijuana throughout Spain as well as to Switzerland, Holland, Germany, Belgium and other countries in Europe.
THE OPERATION
In the first phase of their investigation, the investigators are conducting a total of 11 house searches in the province of Malaga. Notable items found there include €740,400, $25,250, 20 kilograms of cannabis buds, 1,000 cannabis plants, a handgun and various police equipment such as ballistic vests and GPS tracking devices.
11 people were arrested in the early stages of the operation for a variety of offenses including drug trafficking, membership in a criminal gang, illegal possession of weapons and electricity fraud.
Due to the size of the organization, some of the files have been retained for a later stage of exploitation. The regions of Granada, Cordoba and Seville are currently home to 14 drug suppliers who have been arrested by the Guardia Civil.
1,500 cannabis plants, 10 kg of packaged marijuana, five firearms and 15,000 euros in cash were seized by the Guardia Civil during these eight raids.
The members of the organized crime and counter-narcotics team of the Malaga Civil Guard Command and OCON Sur all worked together to carry out the operation with the support of CRAIN, the GAR and the other commands involved.
EARLIER BIG DRUG BREAKDOWN IN SPAIN
According to the Spanish authorities, 5.6 tons of cocaine worth over 340 million euros were seized in the port of Valencia at the end of November. This was the country's largest drug shipment in the previous four years.
According to the Interior Ministry, police searched a suspected shipping container that had just arrived in one of Europe's largest Mediterranean ports from South America and discovered the drugs.
The term "Rey" (Spanish for "king") was written in capital letters on a pile of bricks that appeared to be cocaine and were wrapped in plastic, according to a picture provided by the ministry.
After concerns emerged that criminal gangs were "exploiting" lawful imports of fruit and vegetables to ship drugs "from across the Atlantic" to Spain, authorities launched the investigation that led to the 2021 seizure.
According to a police officer from the Guardia Civil in Valencia, no arrests have been made so far, but the investigation is ongoing.
The authorities did not announce when the operation took place and where the container ship had come from.
Two days before news of the drug seizure, Europol announced that law enforcement agencies from six different nations, including Spain, had broken up a "super cartel" of drug dealers responsible for almost a third of Europe's cocaine trade.
The coordinated operation led to the arrest of 15 people across the country, according to the Spanish Guardia Civil.
The cartel would use the Mediterranean ports of Algeciras, Barcelona and Valencia to ship cocaine from Panama to Spain while laundering money made buying land along Spain's southern coast.
Due to its strong ties to ancient colonies in Latin America, the world's largest producer of cocaine, and its proximity to North Africa, a major supplier of hashish, Spain has become a major entry point for drugs into Europe.
SPANISH LAW ENFORCEMENT AND MARIJUANA
The Guardia Civil, one of Spain's two national police agencies, is the country's oldest law enforcement organization and was responsible for the arrest. As a national gendarmerie, it is militarily oriented and leads the civil police under the direction of the Ministry of the Interior and the Ministry of Defence. The Civil Guard (Guardia Civil) successfully coordinated, investigated and arrested drug smugglers who used Ukrainian aid trucks to smuggle drugs and evade police checks.
The ODAIFI (Oficinas de Análisis e Investigación Fiscadivision) is the division of the Guardia Civil in charge of investigations aimed at prosecuting criminal offences, particularly the detection of illegal goods (especially money, drugs and stolen objects) at points of entry into Spain.
FINAL EFFECT
Spanish authorities are quite strict and frown upon the marijuana trade in the country. Any amount of marijuana sold or imported is illegal and subject to jail time. Purchasing, possession and use of cannabis in public places are considered administrative offenses punishable by fines and product confiscation.
Cannabis plants that are visible from the street or a public area (e.g. from balconies) are considered a serious administrative offense and are punishable with fines of between 601 and 30,000 euros. The cannabis industry in Spain and Europe has a long way to go.
UKRAINE LEGALIZES WEED, READ MORE…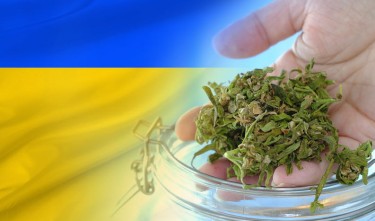 WILL UKRAINE LEGALIZE MEDICAL MARIJUANA DURING WAR?