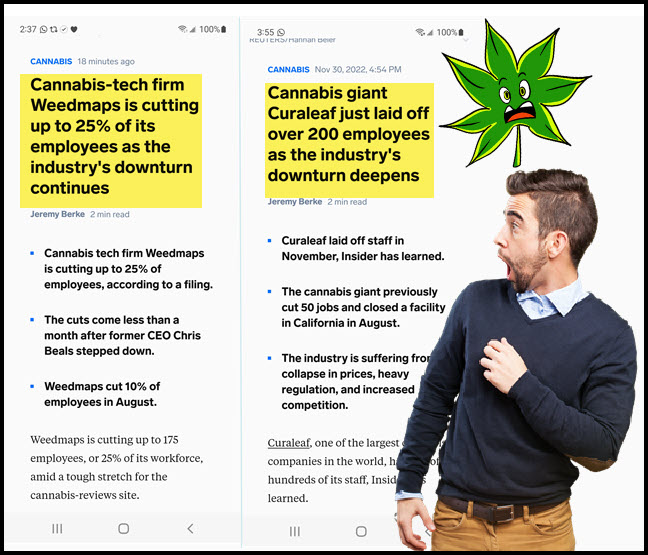 When will we see a bottom in the cannabis industry?
With the news that Dutchie's founding brothers, Ross and Zack Lipson, have been relieved of their duties at Dutchie, more bad news hits the cannabis industry as Weedmaps, the industry leader in traffic and sales leads, is laying off another 25% of its workforce their new CEO. For those who count, Weedmaps has shed 1/3 of its workforce in the last few months and they are making TONS of money. Their profit margins top 90%, and yet they succumb to the massive collapse of the cannabis industry. Weedmaps recently announced that they have over 500 non-paying customers, which makes you wonder how bad it is for flower sales companies when they can't afford their monthly subscription to Weedmaps.
Throw people into MSOs like Curaleaf, and you know whether you're touching the flower, driving traffic, or helping to take orders and run POS systems, there's nowhere to hide from the carnage, affecting the marijuana industry.
when does it end
Full legalization will be very painful, but the last drop of blood must flow from the excess and greed in the industry. With full legalization comes interstate trade. This will finally create a national, tradable, trackable market that is efficient and sets fundamental prices for cannabis in America. Margins are crushed in a final brutal blow as oversupplied states flood underserved states with product. You may hear whispers about interstate commerce and the Dormant Commerce Clause, but that could be years away and a long court battle all the way to the Supreme Court.
This will be ground zero.
National legalization will also correct the albatross known as IRS code 280e.
You get those two events, you get a rational, efficient market.
Expect more blood on the streets by then.
LAYOFFS IN THE MARIJUANA INDUSTRY, READ MORE…
DUTCHIE LOSSINGS, A COAL IN THE COAL MOUNTAIN? CLICK HERE!