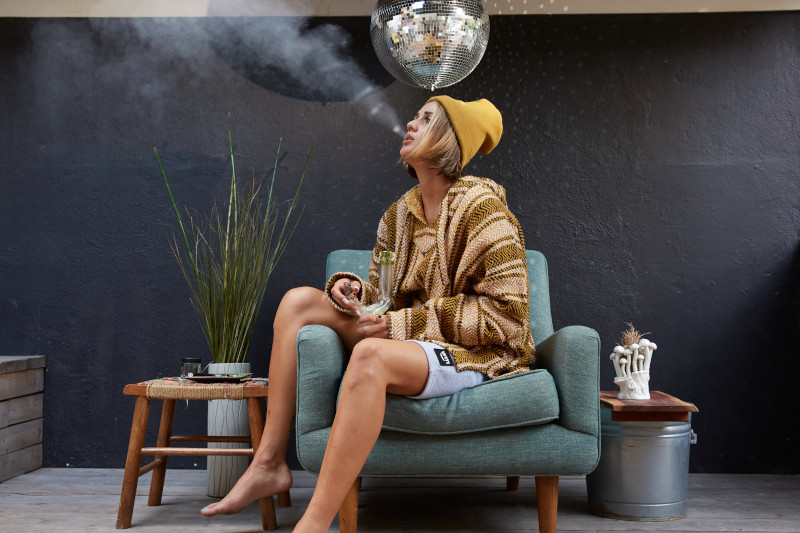 Weedmaps' 2021 buyer's guide: 4/20
It's that time of year again. There is a familiar, skunky smell in the air, the glass is getting ferociously cleaned, your favorite cannabis shops are stocking up on products, and Bic lighters are going missing every minute. We're talking about the 4/20 season, of course!
Last year 4/20 happened in the thick of the pandemic, but with more people being able to safely venture outside (still adhere to social distancing practices, please!), we can take advantage of the celebrations and incredible deals happening in dispensaries and stores around the country (check out our tips for big sales weekends). 
And while there are more products and deals than we can keep track of, it's always true that you want to hit 4/20 with some style. Whether that's a new bong or rolling tray to impress the sesh, or maybe stoner-centric clothing or jewelry, 4/20 is the perfect time to get that special stoner item you've had your eye on. We've included a selection of smoking devices, grinders, ashtrays, rolling trays, apparel, jewelry, and more to celebrate 4/20. 
Products in this guide are recommended by the independent contributors who author this content. Some brands featured in this guide also appear on Weedmaps.
Smoking devices
Vibes Ultra Thin Rolling Papers
Vibes Ultra Thin King Size are new, but they might be the best rolling papers in the game. Vibes roll super nicely; they hit super smooth; and they burn super slow. I'm not the biggest on the rice or hemp ones, but those Ultra Thin joints? 10 out of 5 stars.
Price: $2.50 (singles), $125 (box)
Mota Glass Mini Beaker Bong
By now, you should know what's good with Mota Glass. They're great people that make great bongs from great glass. Like most high-quality glass, Mota's bongs will hit your pockets for a couple hundo on a good day. But if you want to give one to someone special, and save yourself a little cheddar, cop that Mota Glass Mini Beaker.
Price: $70
Puffco Vision Plus Dab Rig
A Puffco Plus is a great buy for dabbers. It's essentially a pocket dab rig, and let me tell ya, those three heat settings definitely bring forth those terpenes in your oil big time. And with big puffs of smoke to follow. To snaz up the device, go with the Puffco Vision Plus, which comes in an iridescent tie-dye color for the same price as the metallic Puffco Plus.
Price: $89.99
The Tombstone Vape Battery
The Tombstone is essentially the double-barrel shotgun version of a vape battery. It allows you to vape two different 510 cartridges at the same time, and get high off a mixture of flavors, versus just one strain like traditional 510 batteries (or even proprietary carts like G Pen Gio, PAX Era, and STIIIZY). Is it necessary to smoke two different oils at once? Absolutely not. Should that stop you from doing it? Absolutely not.
Price: $37.99
— Dante Jordan
Grinders
Jane Parade Gold Grinder Card
You ever bought some weed on the go and didn't have a grinder to break it down? So you ended up rolling a clumpy ass joint that burnt weirdly enough to make you wish you would've just bought a pre-roll instead? Same. But this gold grinder card from Jane Parade that can fit into your wallet/pocket is here to solve that problem forever. And it's only 20 smackeroos!
Price: $20
Rainbow Astrological Grinder
LET'S GET ASTROLOGICAL, BABY. If you wake up every morning and read your horoscope before a lil' morning meditation, this Rainbow Grinder with zodiac signs on its top is the gift for yourself. Seriously, the design is creative and has the "Oh, where'd you get that?!" factor.
Price: $26
Grindzilla Luxe Grinder
Gold never goes out of style, so you can't go wrong with the Grindzilla from Her Highness NYC. It has three chambers to let you catch all the kief in the world and a pretty dope snake design on the top. Plus, you can't beat the price for such a stylish piece.
Price: $36
Marley Natural Wood Grinder
$90 for a grinder is a pretty tough ask, but it's hard to argue against the quality of Marley Natural's wooden products. Honestly, that's all there is to say about it. It's a well-made grinder that will last longer than the average grinder rinky-dink out there.
Price: $89.99
Tectonic9 Manual Herb Grinder
Go, Go, Gadget Grinder. That's how you'll feel using the Tectonic9 Manual "Herb" Grinder. To use it, you grind up your grass manually like with any other 4 piece grinder, but what sets this one apart is once you're done, you use an electronic dispenser to pour the weed out of the side of your grinder, and directly into your bowl or papers. No more spills for you!
Price: $56
— Dante Jordan
Ashtrays
Ashtray and Incense Holder from D:Ceramics
If you like to burn incense while lighting up, this ashtray and incense holder by artist Denise Lopez may be the perfect fit. All pieces are one-of-a-kind and handmade to order, and you'll want to allow 2 – 3 weeks for shipment — so maybe make this a late gift to yourself to keep 4/20 going past the holiday.
Price: $48
Silicone and Glass Grind On Me Ashtray from Ugly House
Decorated with cute cartoon bongs, lighters, and all things weed, the Grind On Me ashtray is both adorable and functional. Its bright silicone wrap protects the glass from breaking, so you won't have to worry about knocking it over or having it get in the way of your dog's ferocious tail wags. Check out Ugly House's Etsy shop for more in stock. 
Price: $9.99
The Ashtray from Mae
Partnering with designer Joe Doucet, luxury cannabis accessories brand Mae released The Ashtray. Made of brass and plated in rose gold, its sleek design and single joint holder makes it a great option for those celebrating solo. 
Price: $95
Hand Blown Cannabis Leaf Ashtray by Kush Panda
What's 4/20 without the presence of the cannabis leaf immortalized in glass? This hand-blown ashtray from Kush panda mixes a laid-back style and effortless design for a relaxing weed-filled holiday. 
Price: $14.90
Monster Ashtray from The Apollo Box
This unique monster ashtray will be a conversation piece the next time you can safely gather with friends and family. Until then, pair this ceramic ashtray with a joint full of Monster OG before celebrating 4/20 with a Cheech and Chong marathon. 
Price: $51.97
Thigh High Ashtray from Her Highness
Feel extra fancy when you rest your joints on the brass legs of this marble ashtray from Her Highness. The legs will also keep your pre-rolls separate if your indica-loving self and your sativa-loving partner are lighting individual joints before a stony 4/20 dinner.  
Price: $90
— Hannah Meadows
Rolling Trays
Umudyok Designs Hardwood Rolling Tray 
This rolling tray from Umudyok Designs is simply beautiful. Handmade by Oakland-based Cassey Dela Pena with real walnut, maple wood, and beeswax, these trays are unique and sophisticated that are equal parts functional and stylish. 
Price: $40
RAW Triple Flip Bamboo Magnet Rolling Foldable Tray 
As Lindsay MaHarry wrote in her guide to rolling trays, this is the "mac daddy of all rolling trays." Like the Hardwood Rolling Tray above, if you're looking for a tray that shows a classier, more sophisticated side, these eight beautiful trays are made with sustainable bamboo and lock into place to create one giant rolling station for whatever rolling situation you find yourself in. 
Price: $72.99
Wave Tray
These triple-curved, high-gloss glaze rolling trays by Brooklyn ceramicist Julianne Ahn are sleek, functional pieces that add a bit of elegance to the joint rolling experience. For the hip, modern stoner who doesn't want to roll on plastic. 
Price: $90
Ooze Life Rolling Trays
Ahhhh but for the stoners more concerned with getting trippy than having a fancy, expensive rolling tray, let's get weird Enter: Ooze Life. These shatter-resistant glass and metal trays have wonderfully weird and trippy designs that keep the eyes wandering as you roll-up. A few favorites are Imaginarium, Tag, and Space Race. Plus, these rolling trays are affordable, running between $8-$15. 
Shop Ooze Life 
Glow Tray
A co-worker recommended these glow-in-the-dark trays and at first glance, I wondered if they were worth the price ($60-$90) so I asked contributor Dante Jordan what he thought: "Every time I see them I wonder why people are rolling in the dark, lol."
Fair! But the collaborations with Cookies ($60), Alien Labs ($60), and Runtz ($60) and the six multicolor LED lights are too trippy to resist. If you're looking for a trippy time at the party, you're sure to turn heads when you pull one of these Glow Trays from its suede carrying bag. 
Shop Glow Tray
— Nic Juarez
Apparel 
Weedmaps apparel
It just wouldn't be 4/20 without the stoner-approved drip. Luckily Weedmaps has new designs fresh in stock ready for you to snatch up before the big day. While all the designs are certified fresh, I'm partial to these wavy Extrude Long-sleeve Tee ($32), Wordmark Jogger Pant ($50), and Boarder Dad Hat ($24). 
Shop Weedmaps apparel 
Cannaboss Party Suit
There's always that guy who shows up to the party dressed up in a funny suit … and maybe that guy is you! If so, thank you for your service, we need you and your conversation-starting suit. If you're looking to make a 4/20 splash, consider this immaculate "Cannaboss Party Suit" with vibrant weed leaves on a black suit. 
Price: $69.99
Sundae School 
Of all the weed brands with apparel lines, Sundae School is my favorite. All its designs are unique and bold without being audaciously loud. I rock a Navy Logo Cap ($42) most days but recommend checking out these Cherry Blossom Tie-Dye Sweatpants ($95), Yellow Tie-Dye Corduroy Nubi Reversible Jacket ($280), Orange Velvet Smoking Bucket Hat ($42), and [AAPI] Stop Asian Hate Calculator T-Shirt ($42, on sale). 
Shop Sundae School
Cookies apparel
You can't talk about weed apparel without talking about Cookies, Berner's weed and lifestyle brand. Cookies' apparel brings all the Bay Area hype to must-have staples like hoodies, jackets, and jats that should be in every fashion-minded stoner's wardrobe. 
Shop Cookies apparel
Old Pal 
Old Pal's retro-chic style appeals to modern and old-school stoners alike. The concept of "shareable flower" extends to apparel pieces like the "Share the Stoke" pocket shirt ($45), Cosmovision shirt ($45), "It's Just Weed Y'all!" pocket shirt ($45), and 'Pleasure to Treasure" corduroy cap ($36). 
Shop Old Pal apparel 
— Nic Juarez
Jewelry 
Cannabis Enamel Pin from Witschy 
Designed by Make Heads Turn, you'll want to pin this stony creation to your hat, jacket, lapel, or backpack to keep the good vibes going through 4/20 and beyond. 
Price: $10
Iridescent Cannabis Leaf Earrings from Pretty Litty
The missing piece to your 4/20 outfit, these iridescent earrings add a bit of dress-up and shine to the classic cannabis leaf. Bonus: the hooks are made of stainless steel, so they're safe for sensitive ears. 
Price: $16
Mini Cannabis Adjustable Bracelet from The Charm Spot
If you need to be a bit more subtle this 4/20 yet still want to represent, check out this sweet little bracelet design from The Charm Spot. The tiny pot leaf is quite elegant and unassuming, so you can wear it out and about without being too loud. 
Price: $32
Functional Glass Micro-Pipe Necklace from Blunted Objects
On 4/20, you have to make sure you're completely prepared to take a hit at almost any time. Enter the fully functional Micro-Pipe Necklace from Blunted Objects, you'll never be without when you have this one-hitter right at your chest — just don't forget your lighter. 
Price: $45
Mary Me Cannabis Ring from Her Highness
Her Highness's adjustable 14k gold-plated cannabis ring is specifically shaped in the form of the sativa plant, so Jack Herer and Sour Diesel lovers may find it to be the perfect accessory for celebrating their favorite flower on their favorite day. 
Price: $32
Baggie of Weed Earrings from idlehandsx
The stoniest holiday of the year calls for silliness and kitsch, and you'll find both in these mini dime bag earrings. They're a great conversation starter, and you may get a light-hearted laugh or two that will brighten an already lit-up day. 
Price: $8.33
— Hannah Meadows
Random and weird 
Stoned Pet Rock Figurine from FungusGallery 
Sweet and hilarious, the classic Pet Rock gets taken to new heights with a stoney version of the 90s hit toy. This funny figurine is handmade ceramic with acrylic paint design and makes the best companion for stoners celebrating 4/20 solo. — HM
Price: $10
420 Soy Stoner Candles
Been searching for a candle that reminds you of smoking weed? Well, today is your lucky day. Because for a very inexpensive price, you can scoop these 420-scented candles off of Etsy. They're 100% made of soy, and the various aromas are named things like Bong Rips In The Night, Blazed for Dayz, and Munchies, just to name a few. If you get the Munchies candles, they'll come with Cap'n Crunch Berries or Fruit Loops in the wax. — DJ
Price: $10.80
Custom My Rolling Tray
If you've ever wanted to put your college diploma on a rolling tray (I did, so I did), then a custom rolling tray from My Rolling Tray is here to make your wildest dreams come true. They can turn literally any image you can muster into a tray for your ganja. They've even got a LED glow tray option! You and all of your family members need one of these with your great grandmother's picture on it. — DJ
Price: $44.95
Featured image by Gina Coleman/Weedmaps