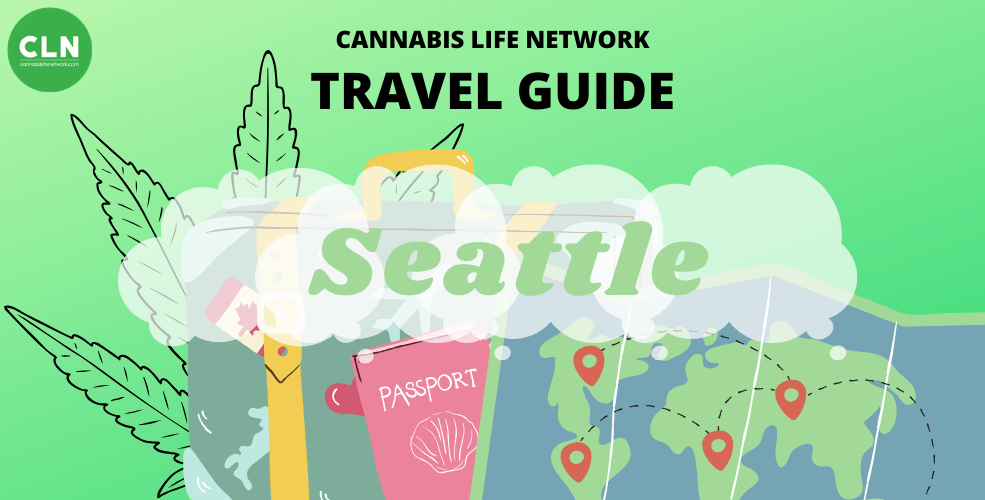 The ultimate stoner guide to Seattle, USA
If you're ever in Seattle, here are some places to check out! We'd like to introduce you to: The ultimate stoner guide to Seattle.
Dockside Cannabis Museum: For history buffs, Buff Stoners visiting Seattle
Photo by: Dockside Cannabis SODO
If you are in the area and interested in cannabis history this place should be checked out! The Dockside Cannabis Museum is full of unique cannabis items from the prohibition period with the innkeeper collection. The items on display here are unlike anything you will see anywhere else in the world. This is the place where you can learn all about cannabis. There is even a terpene smelling station!
This is a great stop for a traveling stoner as the museum is connected to the Dockside Cannabis Recreational Dispensary (SODO), which has proudly served cannabis in Seattle since 2015. If you are over 21, this is the place to stock up for the trip. Click here for directions.
Did you know Seattle was one of the two states that first legalized recreational marijuana in 2012? With the other is Colorado.
Japanese Gardens in Seattle
If you're a stoner looking for a place to relax in Seattle, we recommend stopping at the Japanese Gardens. Located in the Madison Park neighborhood, this garden is one of the oldest and most authentic Japanese gardens in North America. This sanctuary extends over 3.5 acres and is so peaceful and elegant.
The Japanese Garden in Seattle has a tea house where you can join a guided traditional Japanese tea ceremony! There are entrance fees.
More information can be found on the website here.
Pacific Science Center
Photo by: Pacific Science Center
The Pacific Science Center is one of the top places to visit when traveling in Seattle. With hundreds of interactive exhibits, we recommend allowing at least 2-3 hours here as there is just so much to see and do! Some exhibits are temporary to allow for new discoveries. However, there are some permanent scientific exhibits like the tropical butterfly house, planetarium, IMAX theater, and even a Wellbody academy for personal health and wellness.
We recommend all stoners traveling to see a laser dome show at the Pacific Science Center in Seattle!
For directions, access information and more, click here.
Pike Place Market: A place for foodies
The Pike Place Market is one of the few traditional farmers' markets in the United States. This market opened on August 17th, 1907 and has been the soul of the city ever since. Pike Place Market is a hub for some of the most delicious food and drink out there! You will definitely want to stop here as there is something that will satisfy any hungry stoner.
As you search for your perfect festival, you will find that the market is always busy. Here you will find everything from farmers, fresh vegetables, specialties, fish, freshly baked bread, handicrafts, collectibles and much more. while listening to a busker jam!
If you really want the full experience and don't want to miss anything, some tours are offered if you want a guide to take you through and provide you with insight.
For directions and parking, click here.
Chihuly Garden and Glass Museum
Photo by: Chihuly Garden and Glass
We think this is another perfect Seattle stoner destination as many of us can appreciate the beauty of hand blown glass (like your favorite bong). The Chihuly Garden and Glass Museum is a long-term exhibition in the Seattle Center. The exhibition has eight galleries, a central glass house and a lush garden to explore. The museum has existed since 2012 and is admired by thousands of people every year.
The masterpiece is in the 40 foot tall greenhouse. This is a remarkable space to display his work as the 100 foot long sculpture hangs from the ceiling. If you can, try on a clear, sunny day and be amazed by the bright colors of the hand-blown glass from above.
The artist Dale Chihuly was born and raised in Washington. After graduating from university, he taught the art of glass blowing. He was so anxious to develop his skills that he went to the Venini glass factory in Venice. There he developed his full potential. Dale Chihuly's glass art can be found in over 200 museums around the world.
For further information, click here.
Southgate runway
Photo by: Robert N.
If you've smoked a nice sativa and are in the mood for physical activity, this place is a must-see! There aren't a lot of places to go indoor roller skating and it's a fun activity for anyone of any skill level. The rental of ice skates is free when entering the ice rink. Take a look at this and have a laugh! If you want to be serious, read the schedule beforehand and try to get a lesson. On Friday evenings they have a live band or DJ in the house so it could be a fun scooter disco event just like the 80s!
Please visit the website for more information.
Add-a-ball arcade in Seattle
Photo by: Jonathan C.
And finally, if you are looking for a relaxed place to relax and play a few games then this is the place! The Add-a-Ball Arcade has the largest collection of vintage arcades and pinball machines in Seattle. This is the perfect place to let your inner child out! And the best part is there are no kids around so you can relax and have fun. This place is great if you are on a budget as the drinks are cheap and the games cost coins!
We are always trying to expand the list! What are your favorite places? Comment below and follow @cannalifenet for more information!
When in Vancouver, click here for our guide.
We also have a Stoners Guide to LA, click here.
In the meantime, you can enjoy this Seattle event that celebrates the cannabis plant: