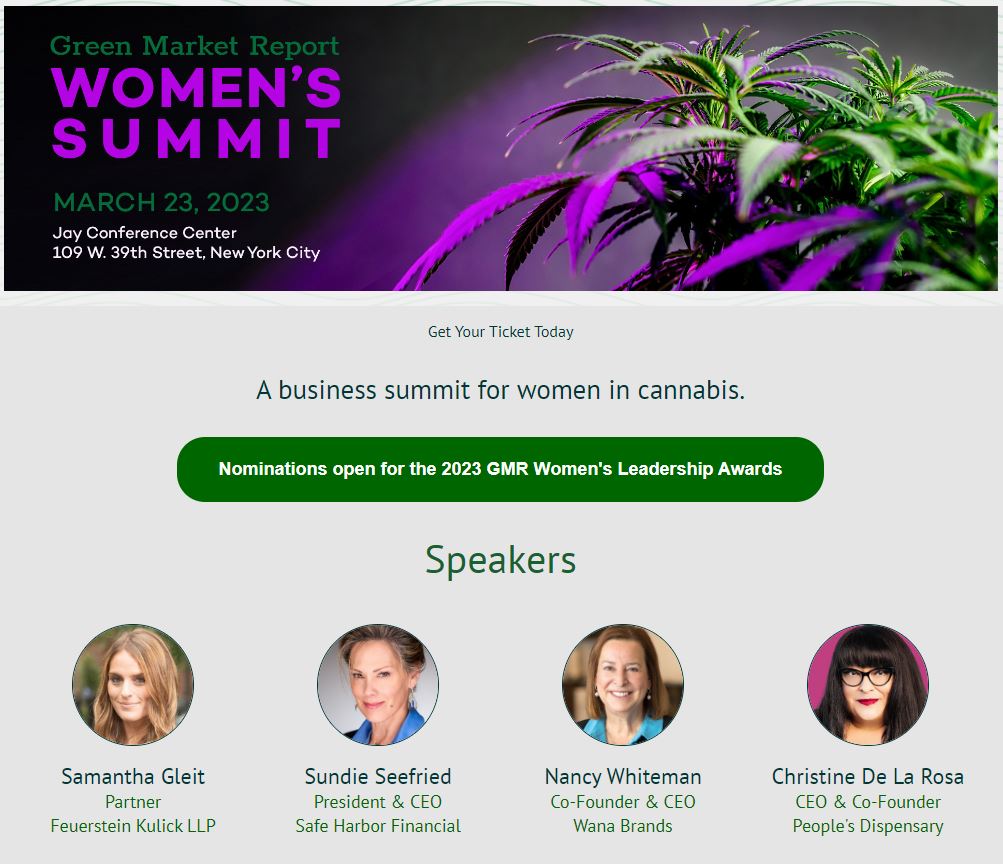 The Can't Miss Cannabis Show in NYC?
Cannabis stocks have entered tech and other industries with a huge tumble, dragging all other companies — including startups, private companies, and small services — into the abyss… but there is hope. A recent report by Headset found that the growth rate of female consumers in the US is outpacing that of males at 55% and 49%, respectively. But women in leadership positions in the cannabis industry grew just 1% to 23.1%, less than in the larger U.S. business world, where women hold 35% of leadership. Maybe if women had more control over the industry, you would see stronger performance.
To help women have a greater impact, Green Market Report has chosen Women's History Month as the perfect time to host its second annual Women's Summit. It takes place on March 23 in New York City. Last year's sold-out event was known for its diversity among established CEOs and emerging entrepreneurs. A survey of 21,980 public companies in 91 countries by the Peterson Institute for International Economics found that the presence of more female executives in top corporate management positions is correlated with increased profitability at those companies.
Debra Borchardt, Founder of Green Market Report, states: "No doubt the industry has experienced some strong headwinds, but this current disruption will result in a stronger industry overall. The get-rich-quick people will be brushed aside and the really good performers will stay. The upheaval is creating a buyer's market in the industry and could create opportunities for new entrants. There are numerous cannabis properties for sale at bargain prices. New owners can acquire these companies at reasonable prices. If women can get the funding, there could be some really good deals for them. Samantha Gleit of Feuerstein Kulick will speak at the summit about the capital raising decision and debt decisions that come with growing your brand."
"Let Debra Borchardt and Green Market Report become the champion of female cannabis entrepreneurs! As the industry catches fire again, it's great to see Debra making sure women have a seat at the table. As a journalist, sharing the facts and covering the good, bad, and ugly, she has helped bring credibility to the industry. Over the course of my cannabis career, GMR has not only become my female-led cannabis publication, but I also credit powerful women in the media (including Debra) for training and helping me to become a respected publicist in the field to grow industry." shares Kim Ring, Ring Relations.
"Debra was a leader who established credibility, debunked posers and uplifted women," said JJ McKay, Founder/Editor of The Fresh Toast, the largest voice in mainstream consumer marketplace.
"Deb is a true pioneer in this industry. She was among the first financial journalists to recognize that this was a serious market with incredible potential. There were individual articles full of puns and innuendos, but no one else really treated them as a dedicated beat from a business standpoint. Taking the time to research, speaking to everyone she could, she really got to know this industry inside and out – and has been fair and honest about the ups (I'm sorry) and the downs. Nobody knows this industry better than they do," said Anne Donohoe, Managing Director at KCSA Strategic Communications.
Shawna Seldon McGregor, Founder of Maverick PR, commented on the value of the Summit, "This is the second year in a row that I've attended the Green Market Report Women's Summit. Last year the room was packed with women and our male allies. It was one of the most energetic and informative summits of the year. Now I'm back and I can't wait to hear the unique perspective of the moment from the female cannabis industry executives curated by Debra & GMR, while also providing excellent coverage of the expansion of the cannabis industry and ensuring diverse voices are heard are heard from women leaders."
Click here to sign up or learn more!