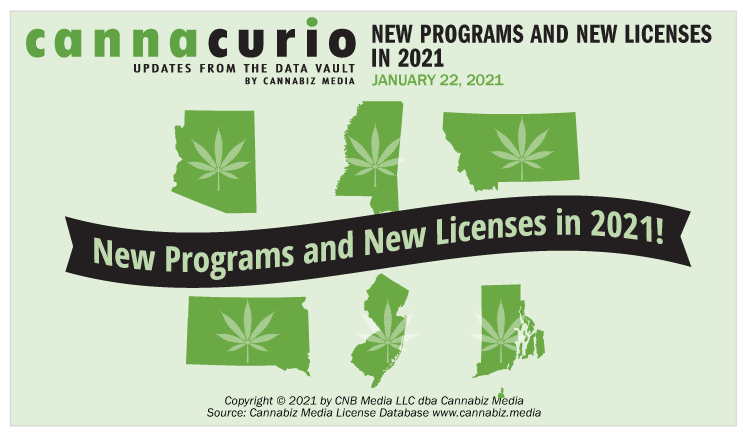 New programs and new licenses in 2021
Be the first to know when new content like this is available!
Subscribe to our newsletter to receive notifications of new posts, local news and industry insights.
Many Thanks! Your submission has been received!
Oops! There was an error submitting the form.
A year ago I started writing Cannacurio blog posts in which I delved into the "data vault" and gave me interesting insights into the data. Topics included new hemp programs, violations, as well as easier license tracking.
The latter topic turned out to be the most popular, as Cannabiz Media shared the total number of licenses granted by each state for activities such as dispensing, manufacturing, and growing. The rush of inquiries we've received from our investment banking and MSO clients has helped us tweak these posts and improve our reporting module.
The November elections resulted in new programs in five states – and that certainly means new licenses. The unknown questions are how many and when. Our team has discovered the following so far:
Voters in Arizona, New Jersey, Montana, and South Dakota approved recreational cannabis, and voters in South Dakota and Mississippi approved medicinal cannabis. Rhode Island will also issue six new pharmacy licenses in 2021. Here is a brief summary of the programs, deadlines and planned licenses:
Arizona
Applications for existing medical cannabis operators wishing to enter the recreational market opened on January 19th and closed on March 9th. In its January bill, the state describes the procedure for applying for and issuing licenses. While experts predicted licenses will be issued in March, on January 22nd, 86 licenses were announced with same-day sales. There are an additional 26 social justice licenses that will be issued later in 2021.
Licenses issued: January 22, 2021
sales: January 22, 2021
New licenses: 26 Social Justice Licenses
Mississippi
MSDH is currently working on putting production, regulatory and licensing structures in place in time for the target date August 15, 2021. Initiative 65 requires regulations for all aspects of the program, including production and licensing for sale, by July 1, 2021.
Issue ordinances: July 1, 2021
Licenses issued: August 15, 2021
New licenses: No
Montana
October 1, 2021 is the deadline for the Treasury Department to set rules and regulations and to accept and submit applications for pharmacies. Sales of adult marijuana will begin in calendar year 2022. Only current medical marijuana suppliers, medical marijuana-infused suppliers, and pharmacies can apply for the first 12 months after the department accepts license applications.
Issue ordinances: October 1, 2021
Licenses issued: October 1, 2021 (estimated)
sales: January 1, 2022 (estimated)
New licenses: TBD
South Dakota
The sale, possession, and use of recreational and medical marijuana is slated to become legal in South Dakota on July 1, and the Treasury Department has until April 1, 2022 to enact regulations on accepting facility applications. The Treasury Department doesn't anticipate accepting marijuana license applications until 2022.
Any recreational marijuana bills passed by lawmakers could be negated by a lawsuit declaring the recreational marijuana vote unconstitutional.
Issue ordinances: April 1, 2022
Licenses issued: 2022 (estimated)
sales: 2022 (estimated)
New licenses: TBD
New Jersey
The state is still trying to find the way forward. After the election, they talked about a big game about selling cannabis to consumers in December. That didn't happen. Competing invoices have been introduced and the process can drag on.
The bill limits cultivation licenses to 37 for the first two years. The limit does not apply to micro-licensing facilities that are no more than 2,500 square feet in area and less than 1,000 facilities.
Issue ordinances: 2021?
Licenses issued: 2021?
sales: TBD
New licenses: 37
Rhode Island
Under the radar, Rhode Island also plans to add six more licenses to the three already in place. Applicants were announced on Christmas Eve 2020, and applications were split a few weeks later.
Issue ordinances: N / A
Licenses issued: 2021
New licenses: 6
In reviewing these states, Arizona appears to be in the best position to expand its program. Like other states before them, they are issuing new recreational licenses to existing medical license holders. While this does not add to the number of people who will own the license, it will likely ensure a smooth rollout as both the regulator and regulator know what to expect.
Mississippi and Montana both appear to be up to the challenge that voters have posed for them with aggressive deadlines for regulations and licenses. Unfortunately, New Jersey and South Dakota seem to be on their way through the tried and true rabbit hole. We have seen these situations delay all kinds of programs – let's hope they find out.
Rhode Island will be interesting to watch as Governor Raimondo may become part of the Biden administration and this can help simplify the program. Their latest budget envisaged a program in which the businesses are run by private contractors, with the state controlling the location, price, potency and amount of sales, taking 61% of net sales. The private operators would receive 29% of the profit and the host communities 10%.
Cannabiz Media customers can stay up to date on these and other new licenses through our newsletter, alert and reporting modules. Subscribe to our newsletter to receive these weekly reports in your inbox. You can also schedule a demo for more information on how to access the Cannabiz Media License Database yourself to delve further into this data.
‍Cannacurio is a weekly column from Cannabiz Media that offers insights into the most comprehensive license data platform. Check out Cannacurio posts and podcasts for the latest updates and information.