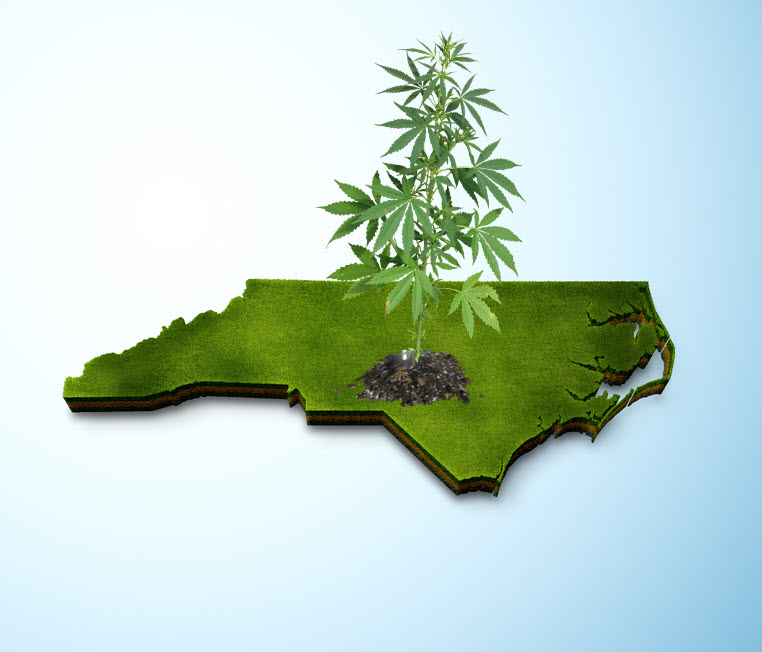 Medical Marijuana Legal in the Tar Heel State?
Last week saw the first procedural vote in favor of a medical marijuana bill in North Carolina, meaning it's now just one step away from going to the House of Representatives. This comes after a senior lawmaker in that chamber said his chamber is well-positioned to pass the reform at this session, despite opposing a similar bill last year.
About a week after easily moving through three committees, Sen. Bill Rabon's (R) proposal passed the Senate second reading by a vote of 36 to 10. In the coming days, the passage is expected to be read a third time and formally forwarded to the other chamber of the legislature.
Under the proposed law, people with qualifying medical conditions such as epilepsy, cancer, multiple sclerosis and post-traumatic stress disorder (PTSD) could possess and purchase cannabis from authorized pharmacies.
PROGRESS OF MEDICAL MARIJUANA LEGALIZATION IN NORTH CAROLINA
Before the vote, Rabon explained in plenary that the bill "is not intended to amend existing civil and criminal statutes governing the use of cannabis for non-medical purposes" and that it "is only intended to introduce changes to the applicable North Carolina laws, which are essential to protecting patients and their physicians from civil and criminal penalties."
It would "allow for narrowly limited use of medical marijuana only by people with serious medical conditions," the spokesman claimed. Law enforcement will have access to a variety of records and databases needed to confirm patients are eligible and that suppliers are complying with the terms of the bill. "We have received significant input from law enforcement on the bill," he added.
As with the previous version during the previous session, supporters are sure that the proposal will pass the Senate. How the Republican-controlled House will handle the situation was less certain.
But House Speaker Tim Moore (R) said in a recent podcast interview that he believes the proposal could stand a chance of passage given the chamber's new political makeup.
I think something has changed. We have a lot of new members," he added, saying that he believes more than half of MPs now support legalizing medical marijuana. "If this law were passed, I would not be shocked at all. In my opinion, the probability of something happening there is more than zero.
The speaker's tone has changed significantly since he said there were "many concerns" about Rabon's move.
The legislation the Senate brought forward in the previous session was "well constructed" and "addressed many of the concerns of the people," according to Senate Pro Tempore President Phil Berger (R), who said so in an interview with the same podcast. It also gave patients with serious illnesses a much-needed treatment option.
PROVISIONS OF THE PROPOSED ACT
The following are the key provisions of SB 3, the Medical Cannabis Act:
People with "debilitating conditions" such as HIV/AIDS, multiple sclerosis, cancer, post-traumatic stress disorder, epilepsy and Parkinson's disease would be allowed access to cannabis.
Smoking and vaping would still be allowed, but doctors would still have to provide their patients with specific dispensing and dosage instructions. They would also need to re-evaluate the suitability of the program for patients at least annually.
The proposed law would allow up to 10 medical marijuana distributors to oversee the production and distribution of cannabis. Eight pharmacies can be operated by each supplier. That's twice the pharmacy cap given in the previous iteration.
The proposed legislation would create a Compassionate Use Advisory Board that would have the authority to add new qualifying medical conditions.
A separate medical marijuana production commission would be established to oversee licenses, ensure an adequate supply of cannabis to patients, and allocate sufficient funds to administer the program.
As part of the legislation, a cannabis research program would also be established in North Carolina to "conduct objective, scientific studies into the administration of cannabis or cannabis-infused products as part of medical therapy."
The precise equity clauses that many proponents are calling for in legalization legislation do not appear to exist.
According to a statement section of the law, the legislature intends "to give priority to safeguarding public health and safety in establishing a system for the cultivation, processing and sale of medicinal cannabis."
SUPPORTING MEDICAL MARIJUANA LEGALIZATION IN NORTH CAROLINA
About three in four North Carolina residents support legalizing medical marijuana, according to a poll conducted last month, indicating they, too, are ready for the change.
For his part, Gov. Roy Cooper (D) said in December that he believes a legalization measure for medical marijuana "has a chance of passing" this year. He also reiterated his support for broader decriminalization of cannabis possession, noting racial injustices in enforcement.
Cooper's recent public endorsement of decriminalization is a more recent development. He first publicly endorsed the policy change in October, saying it was time to "remove the stigma" and revealed separate actions he had taken to explore his options for the independent release of those already convicted.
Cooper said he directed prosecutors to investigate the marijuana parole board after President Joseph Biden issued a mass parole statement in October that also included a call for governors to grant state-level relief.
Meanwhile, the governor called a meeting of the North Carolina Task Group for Racial Equality in Criminal Justice, which had already campaigned for marijuana decriminalization. A proposal for the state to start a study on whether to legalize the sale of cannabis across the board was also part of the final report of the panel, led by the state's AG Josh Stein (D).
Possession of more than half an ounce and up to 1.5 ounces of cannabis is currently a Class 1 offense punishable by up to 45 days in prison and a $200 fine. In 2019, 3,422 similar charges were filed and 1,909 criminal cases initiated; Non-whites made up 70% of those found guilty.
FINAL EFFECT
North Carolina Senator Bill Rabon's bill allowing people with certain medical conditions to possess and purchase cannabis from licensed dispensaries has passed the North Carolina Senate. The plan is expected to be read a third time before being sent to the House of Representatives, where the outcome is less clear, although its chances given the chamber's new political make-up and support shown in a recent poll , are optimistic.
HEMP AND CANNABIS FIGHT IN NORTH CAROLINA, READ MORE…
NORTH CAROLINA COULD SEE HEMP AND CANNABIS CLOSE?