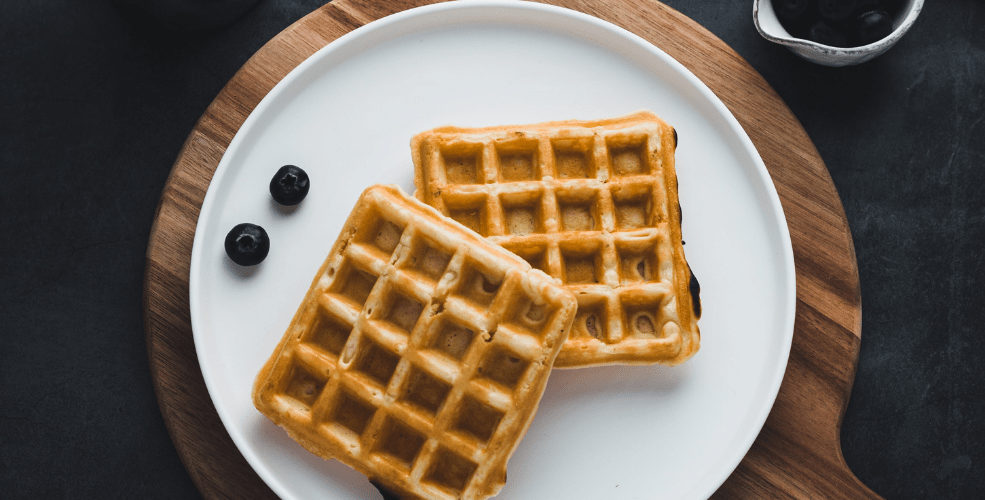 Infused waffles with sour diesel and blueberry maple syrup
While waffles are traditionally a breakfast meal and a delicious one, cannabis infusion can be the perfect breakfast for dinner. Unless, of course, you're ready to start your day with a hefty dose of cannabis in your fluffy, buttery waffle stack.
No matter what time of day you choose, make sure your schedule is cleared! Double your dosage with this poured waffle recipe paired with a sour diesel blueberry maple syrup. This strong breakfast is best served in the evening.
Video & recipe from The Wellness Soldier
Infused waffles
2 tablespoons of sugar
2 cups all-purpose flour
4 teaspoons of baking powder
1 teaspoon of salt
1 3/4 cup milk
2 eggs
1/3 cup of cannabis butter, melted
1 teaspoon vanilla extract.
To start the waffle batter, prepare two mixing bowls. In the first bowl, mix and blend all the dry ingredients until homogeneous: sugar, flour, baking powder and salt. In the second bowl, combine all the moist ingredients and whisk together: milk, eggs, cannabis butter and vanilla extract.
Pour the wet ingredients into the dry ingredients and whisk them until they are combined but not completely smooth. The dough should look like a thick color. Scoop the batter into your waffle iron and keep the finished waffles warm while you start making the syrup.
Sour Diesel & Blueberry Maple Syrup
1 cup of maple syrup
1 1/4 cup blueberries
5 grams of sour diesel, decarburized
Put a medium saucepan over medium heat and add all three ingredients. Stir gently with a spoon until the blueberries and cannabis are completely saturated with syrup.
Bring to the boil and reduce until the desired consistency is achieved. Remove the syrup mixture from the heat and pass through a fine sieve. Once your stack of waffles is ready, serve them with this delicious fruit-infused syrup.
The perfect breakfast for the wake-n-baker or a strong nightcap for your breakfast for dinner. You can't go wrong with cannabis waffles. Let us know how to add cannabis to your breakfast dishes below. As always, you can find more delicious cannabis recipes here!