Increased demand for top talent as salaries in the cannabis industry continue to rise
By Jelena Martinovic
With 320,000 full-time cannabis jobs in 2021, legal adult cannabis in 17 states and DC and medical marijuana in 36 states, the U.S. cannabis industry continues to demonstrate its strength and resilience.
Looking for a clearer picture of the industry, a cannabis-focused recruitment and human resources company CannabizTeam has published his 2021 Salary Guide for the Cannabis Industry – Second Quarter Update.
Photo by Heath Korvola / Getty Images
The report examines salaries for the most popular positions in the cannabis space and examines hiring trends.
The updated salary guide also highlights changes in the cannabis industry over the past period.
"The future is bright and we look forward to our continued role in bringing exceptional talent to industry leaders," said Liesl Bernard, Founder and CEO of CannabizTeam.
RELATED: Cannabis Industry Employment Growth Up 50%
Some of the hottest jobs in the cannabis space are in leadership roles, including sales director, grower director, vice president of product development, chief financial officer, vice president of human resources, and vice president of retail, the report reads.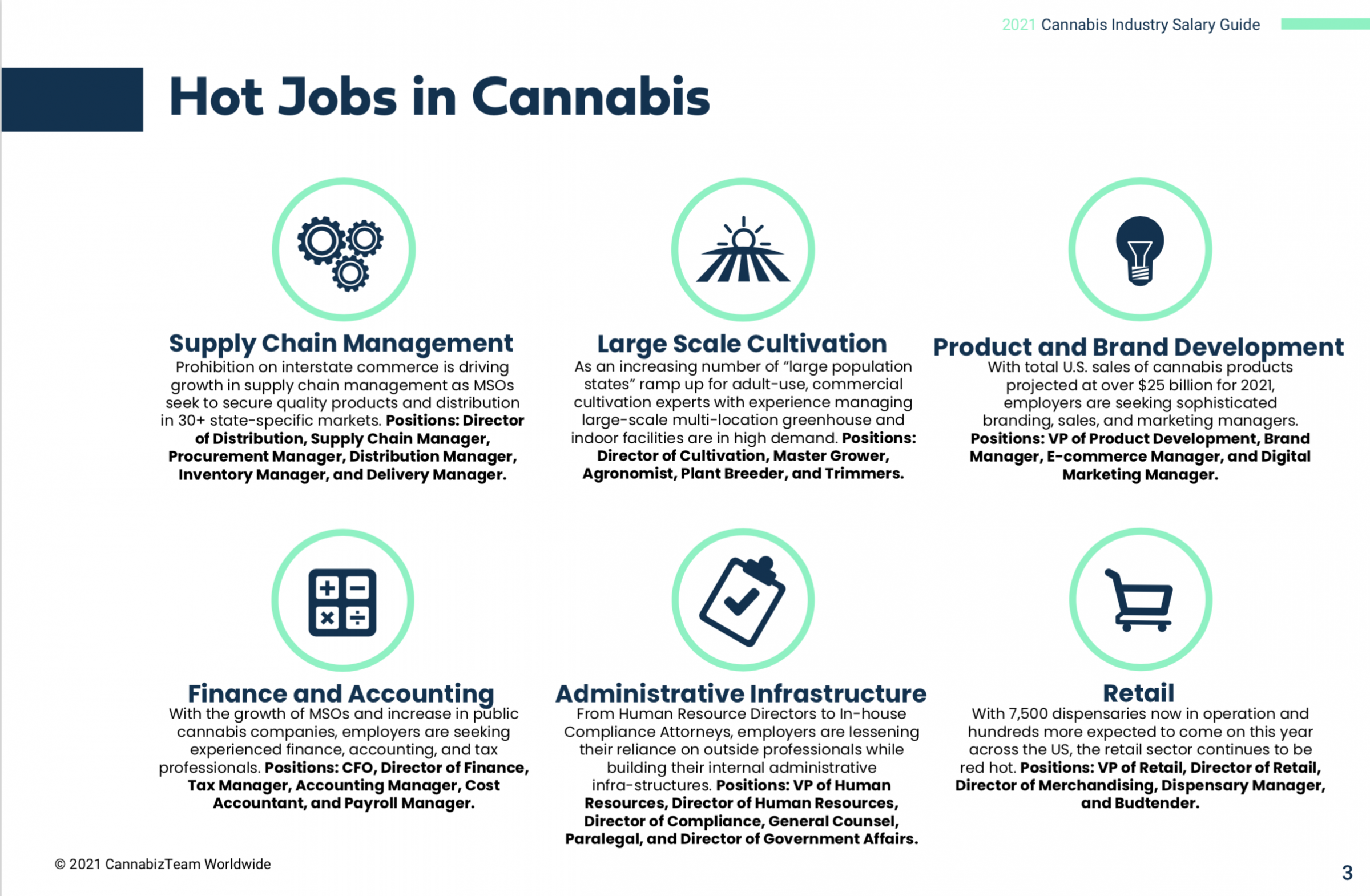 Other key findings of the report are:
In recent years, cannabis salaries have increased due to increased demand that exceeded supply. In 2020, the median executive salary increased 10%, with the trend continuing into the first three months of 2021.
The highest paid position in 2020 and 2021 was Chief Executive Officer with an average base salary of $ 315,450 and $ 350,300, respectively, an 11% increase over the previous year.
This was followed by Chief Operations Officers, who earned an average of $ 232,700 in 2020 and $ 257,100 in 2021.
The worst-paying jobs at cannabis were trimmers and brand ambassadors, with average annual wages of $ 32,250 and $ 33,500, respectively in 2020. Over the course of the year, trimmer salaries increased 5% to $ 34,000 and brand ambassador salaries increased 6% to 35,550 USD.
Photo by Bulat Silvia / Getty Images
Hiring Trends: Diversity, Temporary Workers, and Non-Cannabis Talent
The emerging industry continues to seek diversity among its employees, which is evident in the opportunities for minority candidates in all cannabis industries.
The trend towards hiring agency workers is also evident, especially for hard-to-fill jobs and for full-time workers who are on health or family leave.
RELATED: 32% Cannabis Employment Growth In 2020 Despite COVID-19
The temporary employment markets in California, Arizona, Illinois, Michigan, and Oklahoma use temporary work stations to screen new employees prior to permanent hire.
In 2020, positions in the C-Suite for cannabis were also filled by experienced experts outside the cannabis industry for the first time.
Many cannabis companies strengthened their teams by hiring beverage experts. Food experts followed suit.
Other industries that have spawned cannabis talent include pharmaceuticals, as well as agriculture, medical care, consumer products, technology, and retail.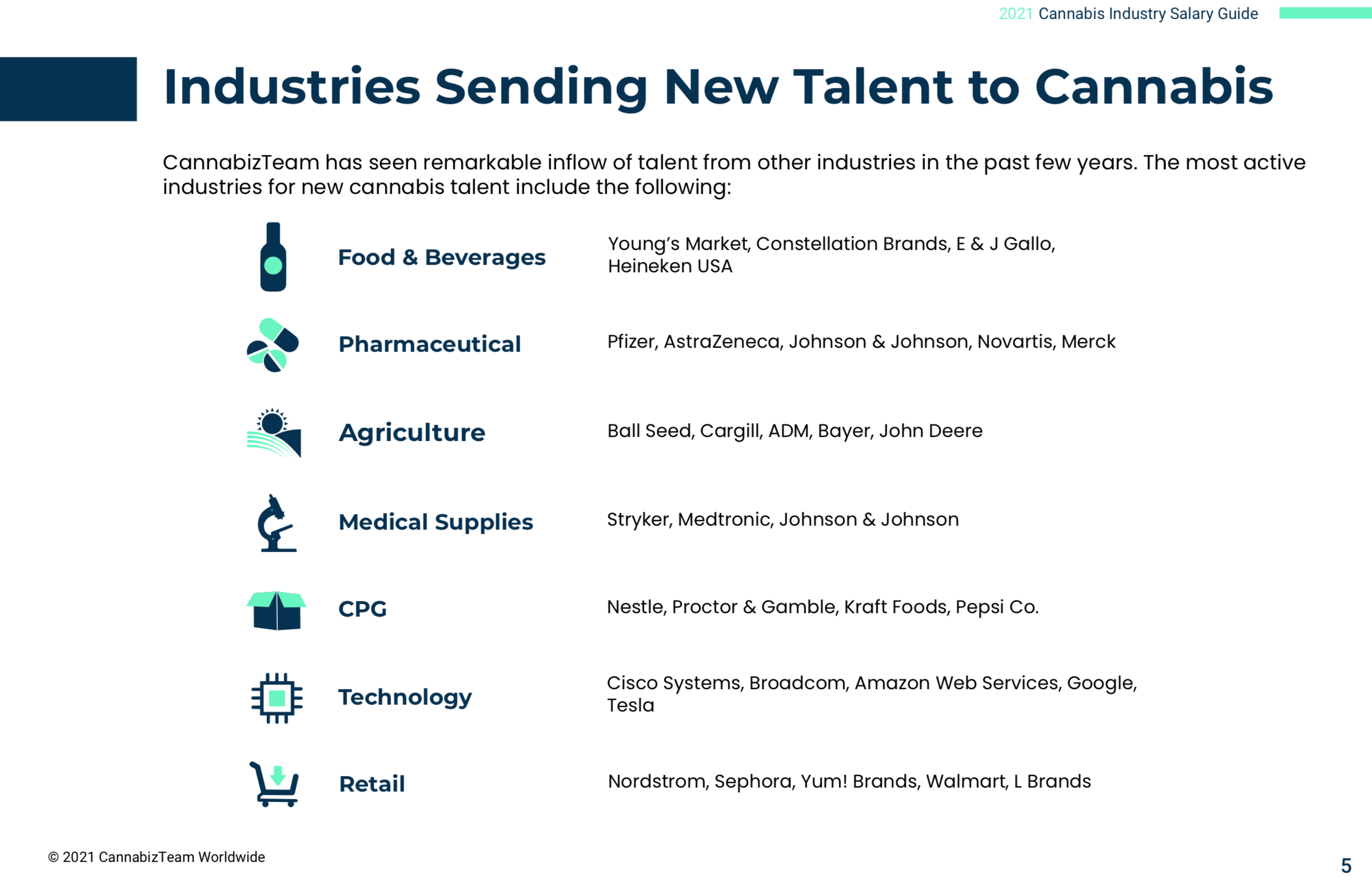 California continues to lead the booming cannabis job market in the United States, with 24,000 new jobs in 2020 and a total of 58,000 employees in the industry. Gross sales in the Golden State were $ 3.7 billion.