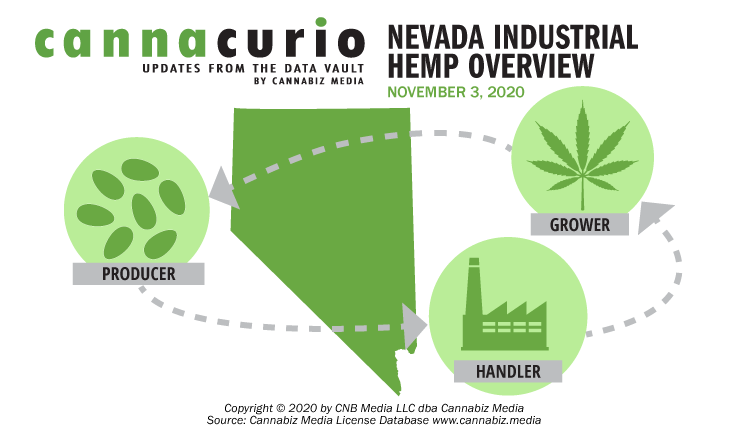 Cannacurio: Nevada Industrial Hemp Overview
Be the first to know when new content like this is available!
Subscribe to our newsletter to receive notifications of new posts, local news and industry insights.
Many Thanks! Your submission has been received!
Oops! There was an error submitting the form.
The Nevada Department of Agriculture is responsible for supporting hemp farmers, seed producers, and processors. The department defines these categories as follows:
Producer: A person registered with the department who grows industrial hemp. An application is required if the applicant intends to grow hemp in order to harvest the crop for biomass. An additional license is required for harvesting viable seeds for distribution / replication.
producer: A person registered with the Department who produces agricultural cannabis seeds for replication. A license is required if you wish to grow hemp to produce viable seeds for resale / distribution. You must have a hemp grower license before obtaining a seed production license.
Handler: A person registered by the department who receives industrial hemp for processing into goods, products, or agricultural hemp seeds. An application is required if the applicant intends to receive hemp for processing into goods, products or agricultural hemp seeds. Examples of categories that would require a handling license are: Seed Conditioning, Textile Manufacturing, Oil Extraction, Cosmetics, Food, Animal Products, etc.
Main results
We recently updated the Nevada hemp licenses in the database. Here are some of our results:
There are 175 licenses spread across the three activities: 109 producers, 47 processors and 19 seed producers
Hemp flower was named as an intended product by 73 (67%) of growers, with CBD oil listed in second place; 65 (60%). Cultivators could make multiple choices from 11 choices.
The traders were asked to explain their intended processing of raw hemp. Grinding was the most common choice: 19 (40%). CO 2 and ethanol were each 13 (28%). Applicants had to document all of the techniques they used.
Industrial hemp products intended for human consumption, such as cannabidiol (CBD oil), can be sold in marijuana dispensaries across Nevada
We found little concentration among the licensees. 114 have one license, 28 two or three.
Here are the details:
Details on the intended product use can be found here. The Others category encompassed a wide range of plans including Biomass, CBG Oil, and CBD Isolate. The 109 cultivators had 259 responses.
The extraction types also included a variety of choices. The 47 processors had 66 answers:
After all, we didn't find much license concentration in Nevada's program. Only five licensees had three licenses:
Cannabiz Media customers can stay up to date on these and other new licenses through our newsletter, alert and reporting modules. Subscribe to our newsletter to receive these weekly reports in your inbox. You can also schedule a demo for more information on how to access the Cannabiz Media License Database yourself to delve further into this data.‍
Cannacurio is a weekly column from Cannabiz Media that offers insights into the most comprehensive license data platform. Check out Cannacurio posts and podcasts for the latest updates and information.