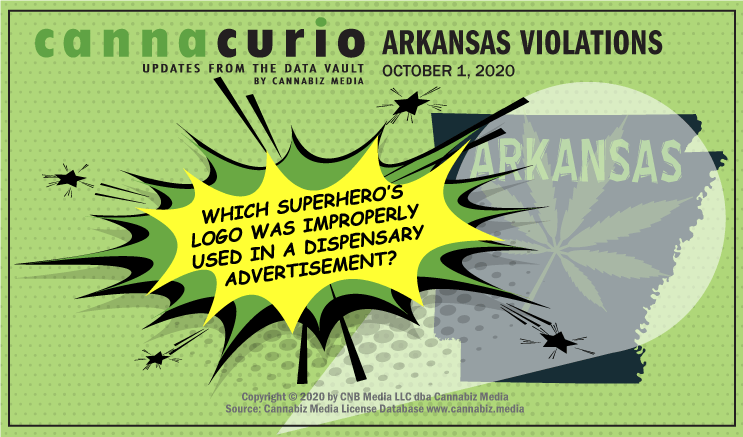 Cannacurio: Arkansas Violations | Cannabiz Media
Be the first to know when new content like this is available!
Subscribe to our newsletter to receive notifications of new posts, local news and industry insights.
Many Thanks! Your submission has been received!
Oops! There was an error submitting the form.
Cannabiz Media recently worked with an Arkansas-based intermediary to obtain copies of complaints, violations, and fines issued by the Alcoholic Beverage Control Division (ABC). We received 60 pages of documents listing 56 violations by 12 state licensees. Cannabiz Media has tracked violations and fines since our inception because we believe this information is very useful to those conducting business, sales, and competitive intelligence.
Main results
The fines ranged from $ 500 to $ 9,100. The suspended fines for a company were originally set at $ 121,000!
Most of the violations involved advertising and marketing. Security breaches were the next largest category
Fiddler's Green (CNB AR-025835) had building signage with a "Batman" icon, the contents of which could reasonably be considered a target audience for children
The regulators have set probation as a condition in thirteen of the sixteen agreements (81%). The trial period was between 30 and 180 days.
The material we received spanned the past twelve months. During this period there were 16 settlements covering the 56 violations. Some companies have been dragged to the Arkansas ABC more than once. Regarding the categories of violations, here is the ranking list:
In addition to the Batman incident, Fiddler's Green (CNB AR-025835) has been cited for inadequate video surveillance. .
The Releaf Center (CNB AR-025129) was cited for the following reasons:
Failure to operate secure premises and protection against theft and diversion
The video surveillance could not be maintained for 90 days
Allows unauthorized personnel to enter the facility
Advertised and marketed cannabis without the required disclosure statements
Promoting and marketing medical cannabis with false or misleading statements
Discounts and promotions offered that were not part of their Compassionate Care program
In addition to the $ 9,100 fine noted above, a $ 74,500 fine has been waived and waived upon successful completion of the 30-day trial period.
Why is that important?
We think this information is useful for several reasons:
Helps industry stakeholders measure market attractiveness by highlighting the state's business and regulatory climate
Provides insight into the types of violations in licensed facilities
Shows the level of transparency from industry and regulators about bad behavior
We covered Colorado and Florida in blog posts earlier this year and collected over 4,300 violations in the database. The highest fine we found in Colorado was $ 200,000, while an early one in Connecticut was $ 300,000. Harvest was fined $ 500,000 in Ohio for paying a fee for misrepresenting social justice. We will add these violations to the database along with the full text documents received from the regulator. These interactions between regulatory authority and regulatory authority provide an important window for the outside perspective of our industry. Washington State, along with Oregon and Maryland, are leaders in transparency. Arkansas, Connecticut, and Florida – require a written request, among others, while Colorado only publishes an annual list.
Cannabiz Media customers can stay up to date on these and other new licenses through our newsletter, alert and reporting modules. Subscribe to our newsletter to receive these weekly reports in your inbox. You can also schedule a demo for more information on how to access the Cannabiz Media License Database yourself to delve further into this data.
‍Cannacurio is a weekly column from Cannabiz Media that offers insights into the most comprehensive license data platform. Check out Cannacurio posts and podcasts for the latest updates and information.