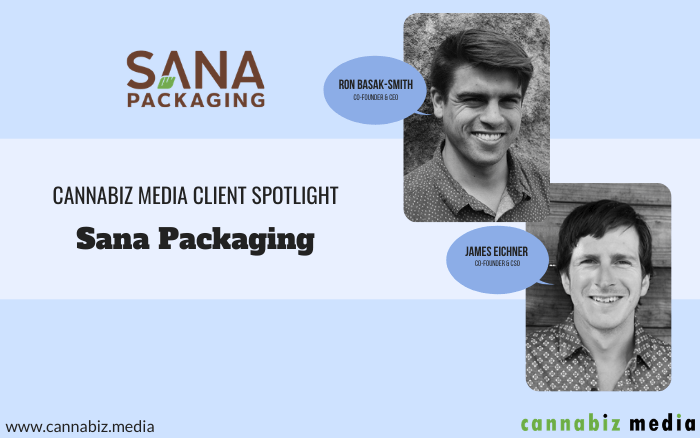 Cannabiz Media Client Spotlight – Sana packaging
Be the first to know when new content like this is available!
Subscribe to our newsletter to receive notifications of new posts, local news and industry insights.
Many Thanks! Your submission has been received!
Oops! There was an error submitting the form.
Sana Packaging, a leader in sustainable packaging in the cannabis industry, focused on solving the problem of packaging waste by developing innovative solutions using materials that help heal the environment, including 100% vegetable hemp packaging and reclaimed ocean plastic.
Cannabiz Media recently spoke to James Eichner and Ron Basak-Smith, founders of Sana Packaging, to learn more about how their team uses the Cannabiz Media License Database to support its sales, marketing and business growth initiatives.
Why does Sana Packaging subscribe to the Cannabiz Media License Database?
Sana Packaging subscribes to the Cannabiz Media License Database for research and business development. Ron explains, "We see the Cannabiz Media License Database as a tool to see who is out there in the cannabis industry and to understand the different players in each new market."
In addition, the Sana Packaging team uses the Cannabiz Media platform to implement its outbound marketing and sales strategy. "We developed our outbound strategy," says James, "and we have found that the Cannabiz Media License Database is the ideal tool and platform for implementing an outbound sales strategy because it is such a comprehensive database acts. "
As a well-funded growth startup, James explains, "The license database really allows us to drill down to specific types and segments of customers within our different types of customers. We are very excited to use the Cannabiz Media platform for this transition, which we as a company are going through from a small startup to a growth phase in which we are actively looking for the best customer for us. "
What's next for Sana Packaging?
For Sana Packaging, the future includes education and growth. "It's really about an economic model," says James, "and how packaging should work in a sustainable long-term system that helps heal the environment. So there has to be so much education going on. We always try to lead with education. It's always about how we can help change the narrative about sustainability, single-use products and waste recycling. As the cannabis industry is new and emerging, we have a unique opportunity to implement the idea of ​​circular packaging from the ground up. "
Visit the Sana Packaging website and you will find that no other packaging brand is investing more resources in consumer education, industry education and awareness of the need for renewable and regenerative packaging solutions.
"We need to reshape our approach to sustainability," says Ron. "In the industry and in the world, it's sometimes easy to quantify something as sustainable using a metric, but we really want to focus the conversation more on the problems we're trying to solve. We take a holistic approach to the conversation and where we can provide some data we do, but we also have these conversations with people about the problems we are trying to solve. "
Sana Packaging will continue to focus on growing and solving the problem of packaging waste in the cannabis industry by working with more companies to convert some or all of their packaging to sustainable materials.
"A lot of companies don't always make a full switch right away," explains Ron. "Instead, we find a product and check whether the packaging counter works for them and whether they benefit from it. Once they start using sustainable packaging, they often see customer acceptance and how those customers interact with their pursuit of sustainability. "
For Sana Packaging, it all starts with education and a conversation. James shares, "We're not just here to offer a product. We're here to create a roadmap and a way forward. "
For more information on Sana Packaging and for more insights from James Eicher and Ron Basak-Smith, follow the link and listen to Cannabiz Media's recent Cannacurio podcast episode featuring James and Ron as special guests .
To learn more about how subscribing to the Cannabiz Media License Database can help your business, how it helps the Sana Packaging team, follow the link and schedule a free demo.
‍