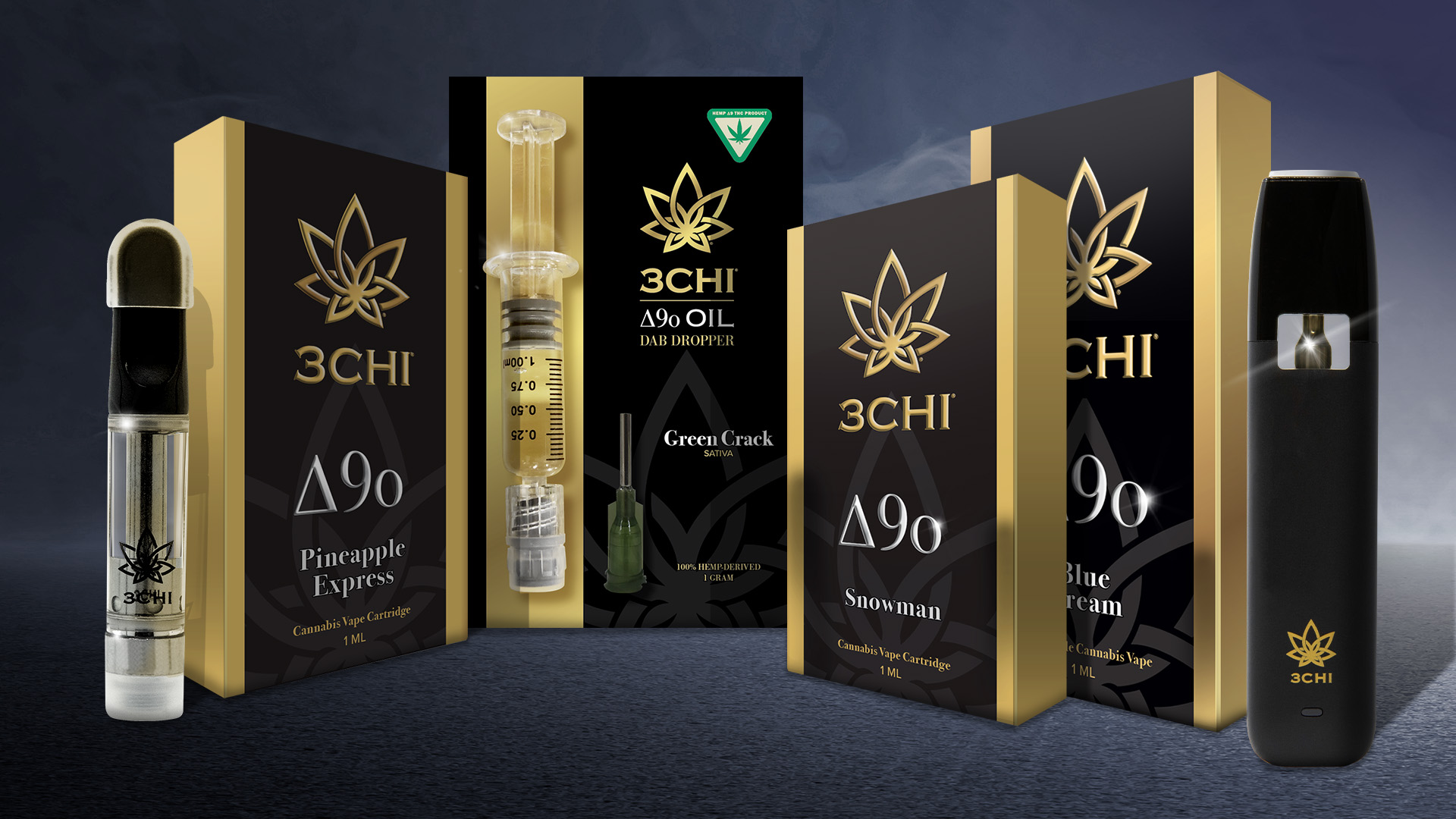 We tried Delta-9o with 3CHI
Presented by 3CHI
Published on November 30, 2022
Find out our first impressions after giving 3CHI's latest cannabinoid product a spin.
It's no surprise that 3CHI is back and making waves with yet another new innovation in the hemp space. As the first producer to introduce Delta-8 to the hemp scene, 3CHI has a long-standing reputation for bringing new cannabinoid products to consumers nationwide while maintaining high standards of product purity and testing.
The Delta 9o Collection is the latest innovation in 3CHI's extensive catalog of hemp-derived highlights.
The Delta 9o Collection is the latest innovation in 3CHI's extensive catalog of hemp-derived highlights. 3CHI's Delta-9o is made from premium organic hemp and is available in vape cartridge and disposable formats and will soon be available in 3CHI's nifty Dab Droppers format with a sauce-like consistency in an easy-to-dose packaging.
3CHI sent samples of their new Delta-9o vapes to this writing team so we could experience it first hand and share how this collection differs from products like Delta-8, THC-O and Delta-9. While research on the cannabinoid is still in its infancy, in this article we'll break down what we currently know about Delta-9o and what we experienced while trying 3CHI's latest collection.
The scoop on Delta-9o
Courtesy of 3CHI
So what is Delta-9o? Delta-9o is short for Delta-9-THC-O-Acetate and is similar to Delta-9-THC, but like THC-O, an acetyl group is added to the hemp extract to create a unique bioavailable compound.
The effects of Delta-9o are said to be similar to Delta-9 – the main difference lies in the fact that the addition of the acetyl group means that the compound has to be metabolized before it becomes active. After consumption, Delta-9o undergoes a process called deacetylation in the liver, which removes the acetyl group.
Because of this process, the remaining delta-9 THC is thought to be more bioavailable than regular delta-9. Consequently, the effects of Delta-9o are said to be stronger and longer-lasting than typical Delta-9.
The metabolic aspect of Delta-9o also means it may take longer to kick in. 3CHI recommends waiting at least 20 minutes after taking 1-2 puffs from their Delta 9o vape cartridges and disposables before consuming more so you can gauge how the product is affecting you.
Courtesy of 3CHI
The effects of Delta-9o are described as being quite similar to Delta-9 THC, with the same potential for euphoria, appetite stimulation, pain relief, and sleep benefits associated with traditional Delta-9.
Similar to THC-O, where the acetyl group is added to Delta-8 extract for increased bioavailability – and therefore potency – and then Delta-8 is left with its unique post-metabolized effects, Delta-9o works the same way with Delta 9 extract as a base.
Another unique aspect of Delta-9o is the quality of the oil. 3CHI reports that their Delta-9o is much less viscous than Delta-9 THC, making for smoother, more satisfying hits when vaping the extract.
The download on delta-9o carts & disposables
Courtesy of 3CHI
3CHI provided this writing team with two different Delta 9o vape strains so we could see for ourselves how Delta 9o stands out from the crowd. A disposable Delta-9o from Blue Dream and a Delta-9o cartridge from Ice Cream Cake arrived promptly at our door, another great benefit of hemp's federal legal status.
First, a quick note on 3CHI's packaging: 3CHI's sturdy and well-designed vape packaging protects your purchase and offers a QR code right on the back of the box, linking you to the third-party Certificate of Analysis for the specific product in your hand . Having this information at hand provides tremendous peace of mind and demonstrates 3CHI's commitment to only offering transparently manufactured products.
The disposable item is free of unnecessary frills or flashy colors. Palm-sized and well-constructed with a sleek black finish, it's an ideal on-the-go companion. It's micro-USB rechargeable and we only had to charge it once while enjoying the full 1ml disposable. The cart is similarly well-built and straightforward – it easily attaches to a 510-thread battery.
From the first inhale it was clear that 3CHI's claims of a smooth hit hold. Not only did the draw-activated reaction work smoothly and without you having to pull too hard with the disposable, but you're instantly rewarded with big, botanical, clean-tasting clouds.
Some lesser vape products can leave a gritty feeling on your teeth or hit you with a heavy, hemp-like taste – not so here – even after familiarizing ourselves with the potency levels and taking multiple hits in a row, we experienced a nice, barely sweet, light-touch vapor.
The delta 9o high
Following 3CHI's instructions, we took two heavy tokes and waited for a high to set in. True to its description, the high came on a bit slower than a typical Delta 9 vape – after around 15-20 minutes it was there: a nice powerful head high and the familiar body-warming effects of Delta-9.
As a frequent cannabis user, this author's tolerance level is on the higher end of the spectrum. I often feel with Delta 9 vapes that it takes quite a few hits to feel the effects. With both the Blue Dream disposable and the Ice Cream Cake Cart, I didn't experience overwhelming potency, on the contrary, it felt like I was able to achieve the high I get from smoking whole flower cannabis often with just one experience a few hits from the Delta 9o vapes.
Courtesy of 3CHI
As with any cannabinoid product, it is important to start low and work slowly to determine how the product affects you personally. For me, I could puff on the disposable or my pen all night like I would normally do when smoking cannabis flower to achieve a noticeable, comfortable high that built into a nice stone on puff.
Three observations stood out from my Delta 9o experience:
She delivered an appetizing high that will likely be very familiar to THC lovers. I had some leftover Halloween candy around the house before these samples arrived. Thanks to Blue Dream's help, I no longer have any leftover Halloween candy around the house.
I was tired at the end of an evening enjoying the Ice Cream Cake cart. Like falling asleep on the couch with the TV on. If you are interested in THC helping with insomnia, consider a Delta-9o product.
Early on after receiving these samples, I ran out of all flower cannabis. Living in an adult state and being a frequent consumer, I usually always made time to walk to a nearby pharmacy to replenish my supply. But since I was enjoying a substantial Delta 9o high from the 3CHI vape samples, I didn't feel like I needed it. I happily vaped these products until they ran out as I didn't feel the need to supplement them with traditional cannabis.
Now you have the download of this team of writers' experience with 3CHI's new Delta 9o collection, but don't take our word for it: you can head over to the 3CHI website to shop their selection of strains and your very own Choose Delta-9o Cart or disposable and see for yourself what a difference this emerging cannabinoid can make.
Leafly Novel Cannabinoid Disclaimer: Use and possession may be restricted by law. This product may expose you to harmful chemical by-products.
The latest in varieties and products
show everything
By submitting this form, you are subscribing to Leafly news and promotional emails and agreeing to Leafly's Terms of Service and Privacy Policy. You can unsubscribe from Leafly email communications at any time.