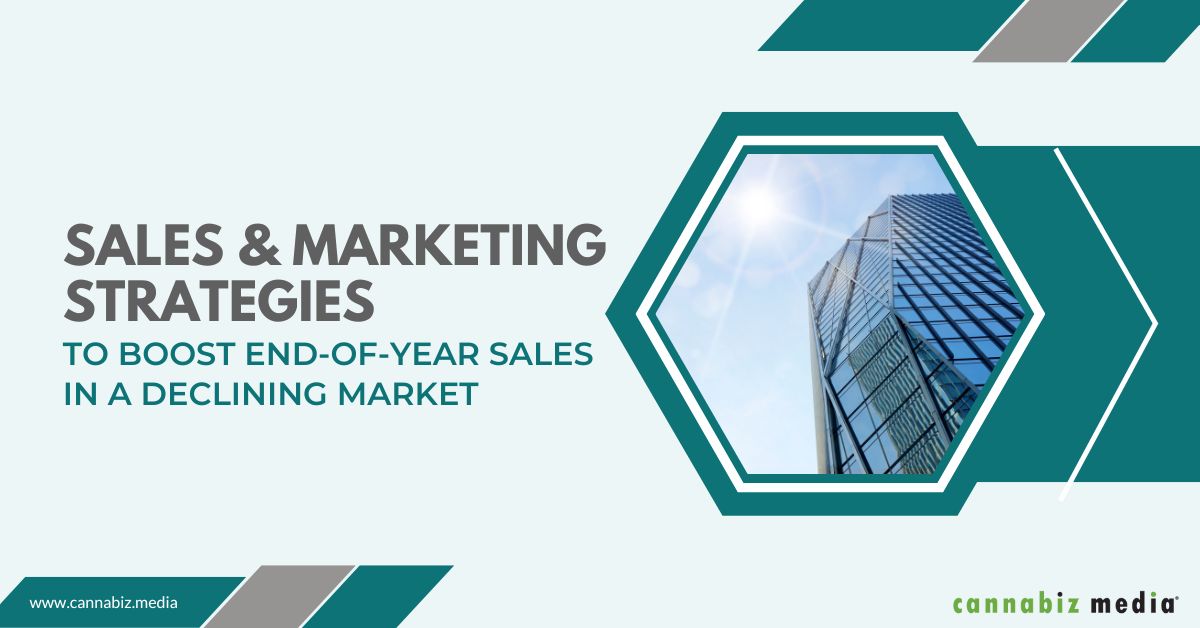 Sales and marketing strategies to increase year-end sales in a declining market
Be the first to know when new content like this is available!
Subscribe to our newsletter to receive notifications of new posts, local news and industry insights.
Thanks very much! Your submission has been received!
Oops! Something went wrong while submitting the form.
Businesses involved in and with the cannabis industry face a long list of challenges as the industry and economy struggles, but back-to-back years of declining cannabis sales shouldn't mean your business can't close sales before year-end. There are marketing strategies you can use now to increase year-end sales in a declining market.
5 strategic focus areas
In order to close more sales in the last few weeks of the year, you need to be extremely strategic and focused. Below are five strategic areas to focus your investments and efforts on for maximum success.
1. B2B Selling Tips
To close sales, you need to target the right leads—the ones most likely to convert quickly. You also need to make sure your business stands out from the competition so that in-market leads are drawn to your brand for the right reasons (i.e. the reasons that make them choose your brand over others).
Set daily goals for your sales team that include not only closed deals, but goals for calls, emails, and meetings with prospects. Don't just focus on new customer leads. You should also spend time targeting current customers who are likely to purchase additional products or services from your business.
With that in mind, here are five B2B selling tips to help you boost year-end results:
Increase the reach of B2B sales
Use social media
Use B2B sales tools
Spread the word about sales promotions
Here's how to do it: Read Cannabiz Media's full guide, B2B Sales Tips to Close More Deals at Year End, for all the details on the five selling tips above.
2. Marketing Programs
Both B2C and B2B consumers expect great deals and promotions at the end of the year, but don't limit your marketing programs to discounts and freebies. There are many different types of programs you can start to quickly generate year-end sales from new and existing customers.
Similar to the B2B selling tips discussed in point 1 above, don't just focus on acquiring new customers. Communicate with your existing customers as well. Email marketing is essential to maintaining and strengthening your brand's relationship with your customers and staying in the minds of prospects.
Five marketing programs known to be effective in the last few weeks of the year include:
referral programs
Bundled Offers
loyalty programs
email marketing
Search-optimized vacation-related websites
Here's how to do it: Read Cannabiz Media's complete guide, 5 Marketing Strategies to Boost Sales Ahead of the New Year, for all the details on the five marketing programs listed above.
3. Content Marketing
Content marketing can increase year-end sales. With just a few weeks left until the end of the year, content marketing helps more people learn about your products, services, and offerings. The goal of successful content marketing that gets quick results is to post the right content and promote it aggressively.
The content you produce and publish needs to be targeted at exactly the right audience to capture attention, drive sharing, and drive sales. Gift guides, videos, and visualizations work well for this purpose.
Remember, a single piece of content doesn't work. You need to surround your audience with the most relevant content and make it as easy as possible for them to share and act on your content (i.e. contact you to make a purchase).
Here are five high-impact ways to promote your year-end content:
email marketing
Social Media Marketing
reach of influencers
digital advertising
SMS Marketing
Here's how to do it: Read Cannabiz Media's full guide, How to Boost Year End Sales with Content Marketing, for all the details on the content promotion options listed above.
4. Holiday Offers
Consumers across all markets and industries expect year-end and holiday specials in the final months and weeks of the year, so it's important to give them what they want. They are actively looking for deals at this time of year and may have budgets that need to be spent before the end of the year.
Of course, not every type of promotion works at the end of the year. The holiday promotions you create to boost year-end sales shouldn't be complicated. Customers must be able to receive the offer quickly and easily. Therefore, focus on creating holiday promotions that drive sales of products and services with short sales cycles.
Here are five Christmas promotions that work well in the last few weeks of the year:
Limited time and limited quantity offers
The incentives for the referral program are increased
Date-based offers
Buy-one-get-one (BOGO) offers
Countdown Actions
Here's how to do it: Read Cannabiz Media's complete guide, 5 Holiday Promotions to Exceed Your Year-End Sales Goals, for all the details on the Christmas promotions listed above.
5. Consumer Behavior
In a declining market, consumer behavior changes and you need to take these changes into account to develop successful year-end sales and marketing strategies. Depending on a B2C or B2B consumer's reaction to an adverse economic environment, psychologists have found that the consumer may eliminate purchases, delay purchases, or continue spending as usual.
Based on the varying consumer responses, it is important to understand what behavior your customers are likely to exhibit so that you can develop the most effective marketing strategies. Review and update your buyer personas to add information to these answers. This is crucial to making the right marketing investments with the best messaging and offers.
Here are four tips for increasing sales through psychology and strategic investing:
Analyze and identify opportunities
Reevaluate your customers
Focus on loyal customers (big and small)
Develop the right offers and invest in promoting them
Here's how to do it: Read Cannabiz Media's full guide, How to Use Psychology and Strategy to Increase Sales in a Sinking Cannabis Market, for all the details on the psychology and consumer behavior tips listed above.
The central theses
The cannabis industry may be struggling, but that doesn't mean your business has to struggle. You can take strategic steps and make specific sales and marketing investments to increase annual sales. Implement the strategies, tips, and steps outlined above to exceed your sales goals this year.
You can increase your year-end sales by connecting with US and international cannabis license holders with a subscription to the Cannabiz Media License Database. Schedule a demo to see how it can help you meet your sales goals.