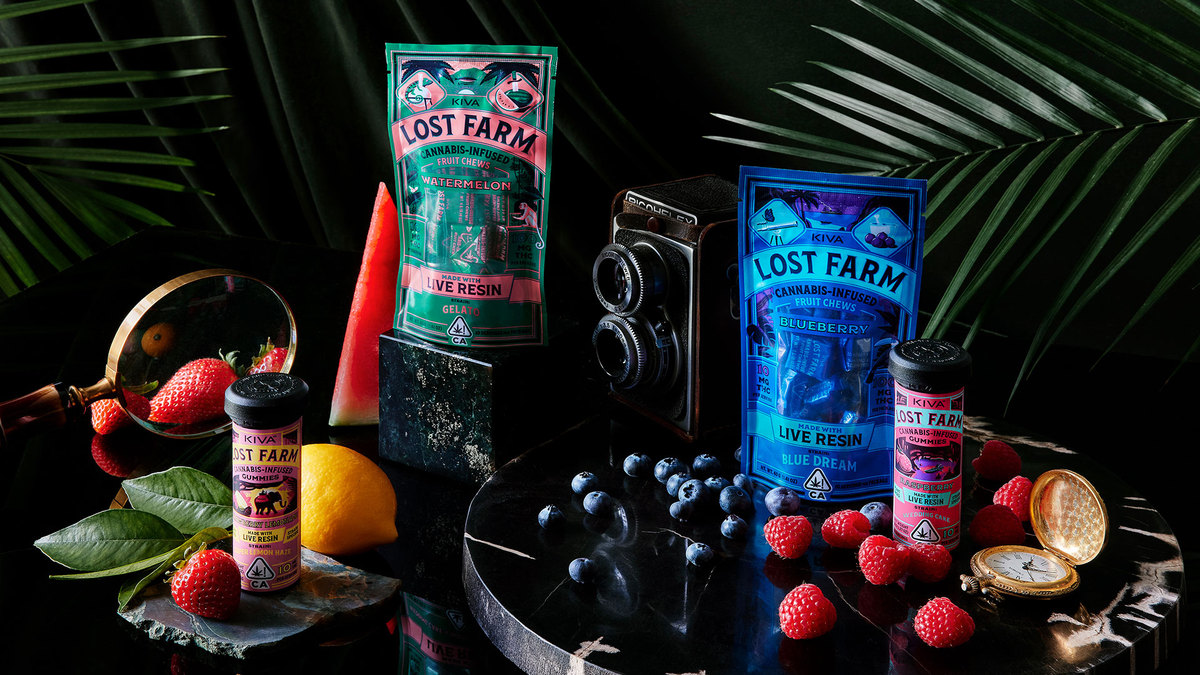 Discover Lost Farm strain-specific edibles
Chews and gum that take strains and concentrates seriously.
Edibles may be one of the most popular cannabis formats, but if you're a true strain enthusiast, you might feel left out of the party. If you're like us, take your appreciation for bud to a new level by examining frosty trichomes, knowing your favorite terpenes, getting hooked on purps, and being passionate about the universe of flavors, experiences, and potential effects experienced through weed.
As you all too well know, many edibles don't come with specific strain or terpene information, leaving true canasseers in the dark when it comes to quality indicators, preferences, and, quite frankly, some of the most important things about weed picking. This combination of factors can lead many heavy users to abandon commercial edibles almost entirely, opting for concentrates or flower instead.
If that's you, listen. Part of the hugely popular Kiva family, Lost Farm has charted a new course for cannabis edibles and invites all stoners with good taste to share in their discovery. Lost Farm's Chews and Gums are all full-spectrum and varietal-specific, infusing either 100% live resin or solvent-free live rosin into their plant-based edibles. They also aim to faithfully capture the terpene profile that makes each strain unique in an edible format. These groundbreaking edibles are made with fresh-frozen bud (and bud alone) to preserve the magical properties that make your favorite strain, well, your favorite strain, meaning you can finally find the high you're looking for in a delicious edible format.
Related
Meet Kiva's Dream Team, CBN-infused sleep edibles for a great night's sleep
Below we're taking a closer look at some of the awesome chews and gummies Lost Farm has released and maybe even a peek at what they're coming up with next, but first let's take a quick look at how Lost Farm engineers designed edibles differently.
A difference in design
When the Lost Farm team sets out to create a new product, they start from scratch. They examine the unique traits that make strains like Wedding Cake and Blue Dream the superstar strains they are, paying particular attention to the aroma and flavor profiles of the buds. High-quality weed is then flash frozen immediately after harvest, ensuring all the valuable terpenes, cannabinoids, and flavonoids that make a strain so special are preserved.
Breaking the seal on a pack of Lost Farm gummy candies is like opening a jar of your favorite flower
Then Lost Farm designs a fresh, fruity edible product around these strain-specific traits, the way a master chef creates a meal to emphasize key ingredients, resulting in an edible experience that will delight both flower-lovers and the most dedicated dabber.
Lost Farm fortifies their chews and gummies with either 100% live resin or solvent-free live rosin extract, whichever best suits the strain's needs. They then decide whether the optimal experience calls for a traditional gummy bear or the more unusual chew format that releases more active terpenes while spending more time in the mouth. Finally, the fruit flavor pairing is perfectly balanced to harmonize with the natural flavor and aroma of the parent strain.
Related
From farm to freezer: why Fresh Frozen is taking over the cannabis harvest
All of these choices combine to create an edible experience like you've never had before. Breaking the seal on a pack of Lost Farm gummies is like opening a jar of your favorite flower, with all the lovely scents and venturing that that brings. Each strain offered by Lost Farm is a unique experience, and with limited drops constantly in play, there's always something new to look forward to.
Check out some of our favorites from the Lost Farm series.
Raspberry x Wedding Cake Gummy Bears made from living resin
Image courtesy of Lost Farm.
2019 Leafly Strain of the Year winner Wedding Cake finds her soulmate when paired with the tart raspberry flavor in these living resin gummies. Each 10 mg THC-infused gummy is brimming with caryophyllene and other terpenes, inviting you to a relaxing, euphoric experience perfect for unwinding at the end of the night.
Blueberry x Blue Dream live resin chewing gum
Image courtesy of Lost Farm.
Chase away the blues with Lost Farm's Blue Dream Blueberry Flavored Chews. A west coast favorite that has taken the whole country by storm, Blue Dream is a sativa-like hybrid made by crossing the indica-like Blueberry with the famous Haze strain. These gummies taste like ripe blueberries lightly dusted with sugar, a perfect combination for the blueberry notes inherent in Blue Dream.
Chewy candies are more long-lasting edibles, meaning they stay in your mouth longer and release myrcene and other terpenes that contribute to that well-rounded high. Leafly users report that the Blue Dream flower gives them a creative feel, so Lost Farm's live resin-infused Blue Dream gummies might just take you into your own illustrious blue period. You have to try them to find out.
Yuzu Fizz x Sour Dream live rosin gums
Image courtesy of Lost Farm.
Don't let the name fool you; You'll only have good thoughts with one of these Lost Farm gummies. The subtle tartness of yuzu and a light citrus accent are the perfect flavor combinations for the powerful earthy notes of Lost Farm's Sour Dream strain. This sativa-like cross between Blue Dream and the legendary Sour Diesel comes fully alive when naturally extracted into the solvent-free live rosin incorporated into these edibles.
When you open a packet of these 10mg gummy bears you are greeted by the familiar Diesel family horniness, tempered and enhanced by the fruitiness of yuzu for a totally original gummy experience. This is an energizing strain thanks to the high levels of terpene myrcene, making these gummies a perfect pairing for a balanced breakfast or to spice up a day with friends.
Cherry Lime X GMO Live Chewable Rosin
Image courtesy of Lost Farm.
At first glance you might be a little surprised by the combination of GMO aka Garlic Cookies with a taste like Cherry Lime, but trust us, it's a big winner. The garlic flavor that GMO, the horny daughter of GSC and Chemdawg, is known for is faithfully translated by the fortified live rosin, bringing an unusual depth of flavor to the cherry-lime chew.
This strain is an indica-like hybrid that tends to leave you feeling extremely cold and relaxed, and the chewable format of these edibles means you get an even greater amount of the relaxing terpenes present in the strain, such as caryophyllene. will record. The skunkiness we love makes an appearance as well, forming a strange but wonderful combination with the cherry-lime flavors. Try this odd couple for yourself and discover the flavor pairing that might end up becoming your new favorite.
Interested in Lost Farm's unique brand of full-spectrum, strain-specific edibles? There is more good news on the horizon. The Lost Farm team is cooking up two new edibles that will be released in the coming months, so keep your eyes peeled. They teased us with news of a terpinol-rich, sativa-dominant Trainwreck edible and just released a limited-edition, Big Lebowski-inspired White RussianxWhite Widow chew in California.
Lost Farm is a member of the Kiva Confections family of edibles. For more information about them and the full range of Kiva products, visit their website. You can also follow Lost Farm on Facebook and Twitter, and follow Lost Farm on Instagram to keep up with exciting updates like new strain drops and collaborations.