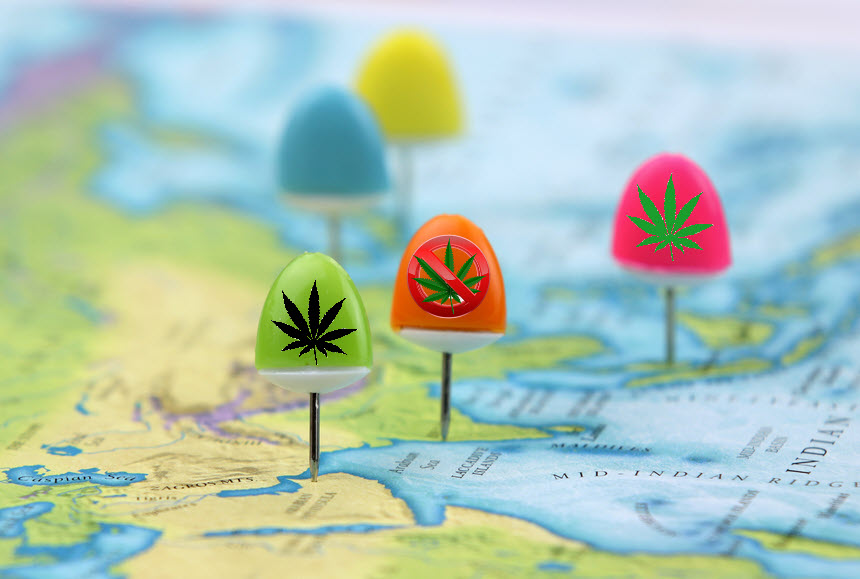 Asia's bumpy green onslaught – Thailand legalizes growing and shipping weed while Hong Kong bans all CBD products
Thailand has legalized the trade and cultivation of marijuana; According to Washington Post reports, they are the only Southeast Asian nation to have implemented the reforms. Anutin Charnvirakul, Thailand's health minister, said he wished the move would improve the country's economy, particularly the agricultural sector.
Earlier this year, Anutin approved the removal of marijuana from Thailand's narcotics list. Medical cannabis was legalized in Thailand in 2018. The Secretary of Health has stated that people who use marijuana in unproductive ways, such as Officials are not pushing to build a tourism industry around marijuana.
Speaking to CNN, Anutin said they have always emphasized the use of marijuana extracts and raw materials for health and medicinal benefits. He added that the thought of helping individuals use marijuana for recreational purposes under all circumstances never crossed their minds.
The market value of marijuana-related companies is forecast to exceed $1 billion, as reported by the Thai Industrial Hemp Trade Association. It is expected to have almost doubled by 2024. Thailand's Food and Drug Administration (FDA) has declassified cannabis and hemp as Category 5 narcotics, allowing restaurants and cafes across the country to serve marijuana-infused goods containing a maximum of 0.2 percent tetrahydrocannabinol (THC), the main intoxicant ingredient of the plant, contain .
Paisan Dankhum, a Health Ministry official, told Reuters that nearly 100,000 people have registered with the government to grow marijuana through the PlookGanja app. The Health Ministry has said it has approved 1,181 marijuana-derived goods, including edibles and cosmetics, and the industry is expected to gain up to 15 billion baht ($435.16 million) by 2026.
THE RELAXATION OF CANNABIS LAWS
Cannabis supporters say relaxation actively decriminalizes cannabis; However, personal consumption for recreational purposes is still strongly discouraged by the government. People have also been warned against smoking in public. Smoking outdoors is considered public nuisance and offenders could be arrested and fined, authorities said. However, the government hopes that creating a local marijuana trade will improve tourism and agriculture
Minister Anutin said on his social media accounts last month that this is an opportunity for individuals and the state to generate revenue from hemp and cannabis. On his Facebook page, he shared a picture of a chicken dish made with marijuana, including saying that anyone can sell this type of dish provided they follow guidelines, the most important of which is that products contain less than 0.2% THC , the compound must contain that produces the intoxicating feeling.
Because Thailand has a tropical climate year-round, Thailand has a long history of marijuana, which many citizens typically use to manufacture traditional drugs. Starting this month, households can grow up to six potted marijuana plants in their home after registering with the authorities, and businesses can also grow the plant with a license.
Customers can also order marijuana-infused drinks and dishes from restaurants. Hospitals across the country can also more readily offer marijuana as a treatment. Thailand became the first country in Asia to legalize the medicinal use of cannabis back in 2018. Under the agenda, the government announces that it also intends to release around 4,000 convicts found guilty of marijuana-related offenses.
A more comprehensive bill to deal with marijuana is currently being evaluated in Thailand's parliament. Proponents believe there could be a gradual relaxation of the terms of use over the next few years.
RECREATIONAL CANNABIS
Canada and Uruguay are the only two nations to have fully legalized recreational cannabis use. In 2018, marijuana use and possession became legal in Georgia. A Supreme Court ruling in Mexico last year could pave the way for legalization there. And just recently, in late 2021, recreational marijuana for personal use was legalized in Malta, becoming the first country in the European Union to do so.
However, some areas have gone in a different direction, like the Thai government, which is still adamant about restrictions on recreational cannabis use, especially in public places. This week, the Hong Kong government announced its plans to ban the export, import, manufacture, possession and sale of products containing CBD, a cannabis-derived non-intoxicating chemical sold to treat insomnia and anxiety becomes.
THE REALITY OF THE SITUATION
Confusion tends to prevail over the situation in Thailand. Has cannabis been legalized or not? As Thailand's tourism economy awakens from its long Covid slumber, many travelers will be wondering if the recent liberal marijuana government means they can smoke a joint anywhere, anytime.
The government's response is no, cannabis cannot be smoked in public and extracts containing more than 0.2 percent of the main psychoactive ingredient, THC, are still not allowed to be sold or distributed.
According to an analysis by BBC News' Johnathan Head, the official goal is for the nation to have an advantage over its neighbors by capturing a large chunk of the profitable market for health therapies that use marijuana derivatives, particularly the less heavy compound CBD. However, there is an alternative motive, which is to reduce overcrowding in some of the world's most overcrowded prisons.
All of this theoretically means that with the growth of the plant, which is now completely legal, law enforcement agencies are unlikely to arrest people just for possessing marijuana. The government claims that its manufacture and consumption are only allowed for medical purposes and not for recreational purposes, but in practice the line between the two has already blurred.
FINAL EFFECT
The Thai government, which was the first to legalize cannabis for all purposes in a region known for very strict drug regulations, is trying to maintain its resolve in using the plant for recreational purposes while trying to harness the plant's benefits in the medicinal field exploit and gain an economic advantage over its neighboring countries.
THAILAND GOES GREEN, READ MORE…
THAILAND LEGALIZES MEDICAL MARIJUANA, READ THIS!